VHS club paddles their way to cleaner beaches
VHS's Heal the Beach club hosted their Annual Downwinder Paddleboard Race on Saturday, September 16.
Heal the Beach, which meets in Mr. Maxwell's room every Friday, focuses on protecting the environment and keeping Ventura's beaches clean.
The two hour race race started at Mondos Beach and ended at the Ventura pier. It consisted of 29 competitors to raise money for the club, and the money goes towards beach cleanups and more club-related events.
Co-presidents Lindsey Froelich and Duffy Anderson and secretary Laura Kemble organized the event, which consisted of making the prizes, providing food, making rash-guards, advertising, and communicating with the racers.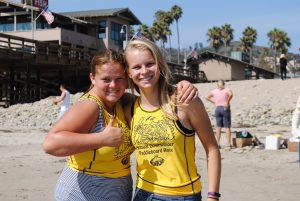 Teacher and competitor Woody Maxwell began the event by gathering the competitors and talking to them before the race. They then all paddled out past the break to begin the 6.4 mile race.
Asked about the race turnout, Kemble said, "the turnout was good, we had like 25 people racing." She said that the winner was Jim Harmon, in a surfski. A surfski is a long, narrow, light kayak made for competitive paddling.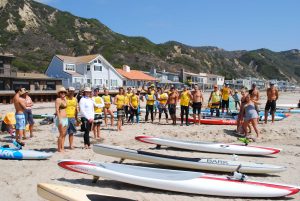 When asked about the success of this year's race, Maxwell commented, "it was a really good race, it is advertised as a beginner race, so it's only seven miles, it's not that far."
The co-presidents mentioned that they are "hoping to raise enough to put on another event like this."
The club also plans on doing the Adopt-a-Gutter program to prevent trash from ending up on the beach. To support the Heal the Beach club and local Ventura beaches, visit the club on Fridays at lunch.