What's behind door number 57?
A glimpse into the world of Pierre Chamaa
Ventura High is filled with many diverse teachers who are truly the backbone of the campus. With each teacher comes a new story, one of which being Pierre Chamaa's.
This year in Ventura High's Math department, Chamaa teaches Math 3 Honors periods 3, 6, and 7. He also teaches Money Management periods 4 and 5.
In an interview with the math teacher, we dove into a more personal side of things, asking questions such as: where he grew up, what his childhood was like, crazy and memorable events that he had experienced, why he decided to become a teacher, and even the question many have wondered, but never asked, "Why do you like pickles so much?"
The interview began with the simple question of where he grew up. "I can't really pinpoint it in one location because I grew up in many places. I've traveled a lot as a child, but mostly grew up in the Middle East," said Chamaa. In response to what this childhood was like, being in the midst of so much relocating, he continued to tell us about a certain time in his childhood: "It was normal, typical. I lived on the seventh floor of a building. I went to school, had homework. You know, typical stuff." While discussing his normal childhood, what Chamaa decided to share next gave us a whole new perspective.
"I was in a warzone part of middle school and high school." Chamaa, still living in the Middle East, spent his early years growing up in the chaos of war. "Scary stuff. We lived in a part of town where things were flying, things were blowing up." It's hard to imagine the atrocities of war, let alone be right in the middle of it.
Aside from the war, he began to share his other crazy life experiences. "I broke my back!" he said enthusiastically. "I was riding a dirt bike in the desert. I took a jump, fell, ended up landing on my head and breaking my back as well!" Who would've known?
Chamaa also went on to describe how he ended up in Ventura, California. "I came to California on my own in 1998. I attended Chico State!"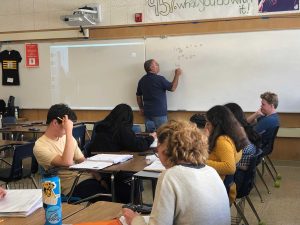 Wrapping things up, he started to discuss his favorite part of teaching at VHS, and why he decided to teach. "The best part is the students. They are the reason why I do this. One of my goals is to give them guidance, so they are able to take care of themselves in the future. Younger generations drive me more, they are the future to salute. I really like it when an old student of mine comes back to this classroom and tell me, 'Yeah you know, you taught me a thing or two.' It gives me a sense of purpose."
As most of his students know, there is always a jar of pickles sitting on Chamaa's desk. In response to the question of why he likes pickles so much, he said, "I don't like pickles on their own; they're good as an addition to anything else. It gives other things a salty flavor, it can go well with sandwiches. They're easy and convenient to store."
After sitting down with Mr. Chamaa, it's safe to say he's a pretty awesome guy. His dedication and pride for teaching is shown from the impact he has left on students. Despite what you think about Mr. Chamaa, we strongly encourage everyone to take time and interact with your teachers.