Belle & Browne bags bring style and sustainability to fashion
VUSD sophomores start a company selling eco-friendly and functional purses.
In recent years, many female students at Ventura High School have retired their backpacks, instead using purses to carry their academic paraphernalia. Styles vary from mini backpacks, to cross body bags, to underarm purses, to hand-crafted purses from Belle & Browne Bags.
Belle & Browne Bags is a two month old company created by VHS sophomore Nicola Blunt and El Camino sophomore Camille Harrison. The company name originates from the two students'  middle names, Nicola Belle Blunt and Camille Browne Harrison. 
The brand is unique since all of their products are designed and hand-sewn by Blunt and Harrison. It is not every day that you see such young individuals starting their own company, Blunt commented, "We've been sewing forever and it's been our dream to have our own baby company."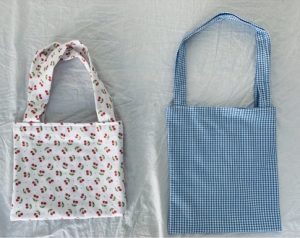 The bags come in two sizes, the "baby" and the "classic." Both sizes follow the same basic rectangular shape. However, no two bags are alike. B&B offers a large variety of fabric patterns such as floral, gingham, fruits, animal prints, and even a sushi print.
Blunt explained their reasoning behind starting B&B, "We wanted to use our creativity and love for fashion to release a bag brand that was sustainable and stylish." 
Harrison and Blunt both make it a priority to enforce sustainability within their products. All of their fabrics are bought from local stores to support other small businesses. B&B also ships out all of their products in reused packaging. Harrison added, "We encourage others to use [our bags] instead of plastic grocery or shopping bags."
B&B Bags is considered a "slow fashion" company, since they mainly sell locally and do not mass produce their products. 
"I think that fast fashion is necessary in order to keep up with fashion demands and latest trends but personally, I try to support local brands or homemade businesses because they are unique and can show off your individual style, unlike buying from a large manufacturer where tons of people have the same thing as you," added Harrison.
The bags are currently being sold through Depop, an app which allows anybody to sell new or used clothing and accessories, thus enforcing the idea of buying secondhand and not supporting fast fashion companies.
While the products they currently offer are strictly limited to bags, B&B plans on expanding their inventory at some point in the future. They urge anybody who is interested in buying from them to follow their Instagram and Depop accounts @belleandbrowne to see when new products and fabrics will be released.
As their company expands, Harrison and Blunt hope to eventually create their own website and have a studio specifically for sewing and designing.