Evading Covid-19… or mask mandates?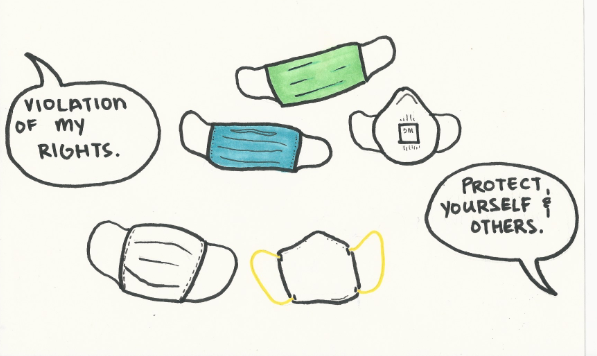 Mask mandate receives mixed feelings from the public.
Gov. Gavin Newsom mandated wearing masks while in public areas on June 18, with individual businesses setting up their own rules for entrance or usage of their facilities. These restrictions have received mixed feelings from the public, some claiming that the mask mandate is an infringement of their rights.
On Aug. 4, Ventura County Board of Supervisors voted 3-2 to allow authorities to pursue lawsuits against individuals who do not comply with state or local health orders. Various cities also began citing or fining people for not wearing a face covering, which prompted several to take action to express their dissatisfaction. Anti-maskers created signs and even wore crotched or mesh masks that were intentionally ineffective to further prove their point during protests.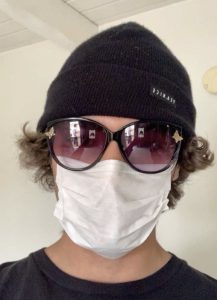 A viral video that reached over two million views on Twitter depicted a woman voicing her discontent with face coverings in Ventura County. Identified as Deborah Baber, Baber emphasized how she "is not a terrorist" and "used to be free" during the Board of Supervisors meeting. Baber additionally brought props, which included her Trump 2020 poster and bell which she rang while saying, "Let liberty ring," and proceeded to sing "God Bless America."
Although she doesn't mind having a mask, senior Shante Williams said, "If I have to wear it all day, I'd get really uncomfortable and hot." According to Healthline, breathing does pose an extra challenge in heat and humidity. People breathe out moisture into the mask, which can feel like breathing is becoming more difficult. Albeit, with a mask, people are able to inhale the same oxygen concentration as someone without a mask according to lung.org.
Masks may potentially save lives in a community effort. Several studies have demonstrated that a carrier of Covid-19 who wears a mask prevents transmission to people in close proximity.
"I feel like masks are efficient, but isolation is most efficient," shared senior Gavin Kernagis. "The reality is that most people can't stay indoors 24/7, so masks are our next best option. Masks and proper sanitation are the way to go."