Masks protect from more than just the cold this season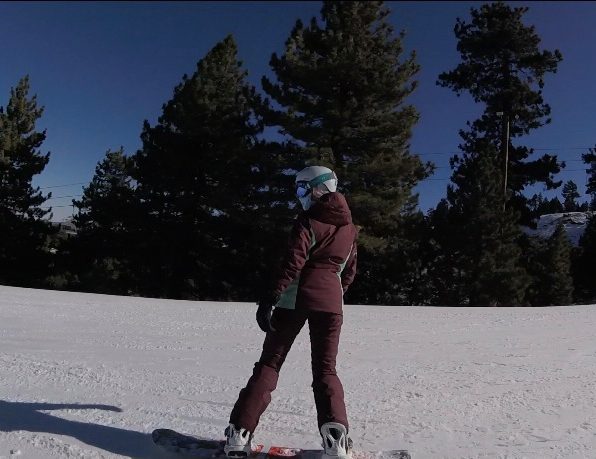 Now that the slopes are open, students share whether or not they believe it is COVID-19 safe.
After COVID-19 cut the ski/snowboard season short in the spring of 2020, the slopes are back up and running for the 2020/2021 season. Even with the most recent rise in cases throughout California, ski slopes are continuing their effort to give those who enjoy the sport a place to have fun. 
The rules go along with most of the basic guidelines California has seen inside of stores. According to Mammoth Mountain's website, visitors are expected to wear sufficient masks, not including "perforated, ventilated, and single-layer neck gaiter style face coverings," stay home if they are experiencing symptoms of illness, thoroughly wash and sanitize hands, and practice social distancing. The website also clarifies that "Masks are required indoors, in lift lines and on lifts, in gondolas, shuttles, and when social distancing with others outside your travel group is not possible." 
As a part of their pledge to "Stay Safe to Stay Open," disobeying mask guidelines will result in three stages of document warnings, each followed by punishments that become more severe after each time the mask policy is violated. If a visitor reaches three documented warnings, whether the individual is a ticket holder or an Ikon pass holder, they will lose their riding privileges for the rest of the season. 
Most recently, ski resorts, although they are keeping slopes and lifts open, have halted lodging. While those who own condominiums a part of the resort are still permitted to stay in their own units, this has put a pause on travel plans for any non-owning visitors or those who do not own property in the area. As sophomore Olivia Roman explained, "The only difference is not a lot of availability of lodging if you are going to travel to a resort and most resorts don't let you dine in their little restaurants. But on the mountain, it feels like what it used to, which is very refreshing."
Even though this year has come with its setbacks, some Ventura High School students have gotten the opportunity to take advantage of the slopes remaining open. 
Roman said, "The experience doesn't feel very different at all. Due to the cold, everyone is already wearing some sort of face covering and wearing gloves which also helps reduce the spread. It feels safe. There are always staff enforcing the mask-wearing and trying to stay six feet apart. The thing that feels too cautious to me though is the unavailable hotels due to covid. You make very little contact with the employees at the hotel, so I don't understand why you aren't able to stay."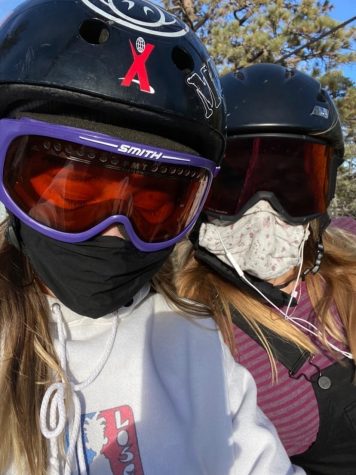 For her birthday, sophomore London Fletcher chose to go snowboarding, and said, "It was pricey but it was worth it. I think it's covid safe because the slopes are only allowing a certain amount of people to go, so there is plenty of space to social distance. I wore a mask, so I think it's fine the slopes are open."
Although new to snowboarding, junior Olivia Sletten also found time to hit the slopes this season. She said, "I went snowboarding in Mammoth for my second time ever this past winter break. I've only been once before. it wasn't much different from the last time I went. you were just required to wear a mask." When asked if she felt that it was COVID-friendly, Sletten responded, "I think it was pretty covid safe especially because when I went, there were barely any people there. I definitely recommend going; it was so fun."
Junior Izzy Eulenhoefer is yet to go this season, but shared her thoughts on what she has heard so far. Eulenhoefer said, "I haven't gone this season but I am going next month! My friends have been up there already and they say the mountain is taking pretty good precautions for covid and checking that people are wearing masks. I think it is safe to be on the slopes because you have to wear a mask and you can definitely social distance on the runs." As Eulenhoefer mentioned, the runs are outside and large enough for people to go down the mountain at a safe distance. 
On the other side of this, the setbacks that this year has brought affected the ability of some students to take time to go skiing or snowboarding. For example, junior Albert Guzman, who said, "I really had no time to snowboard this season. I had a lot on my mind and a lot going on in life. My grandpa just passed from covid and it was an eye-opener for me. Covid is real and it's out there with a vengeance. I just hope we can overcome this dark time and get closer to the norm." 
In the midst of a rapidly changing time, the ski slopes, for those who were able to go, served as a source of fun for the students we interviewed. Skiing or snowboarding is a part of some of the outdoor activities that remain available as a way to stay active, exercise, and be adventurous, while still staying COVID-19 safe and responsible. 
If you are among those who cannot go due to the lack of places to stay in the recent surge, just hang tight and know that the slopes will be waiting for you when the numbers lighten up. In order for things to improve, just remember to keep your distance, wear your mask, and wash your hands!