A rising number of staff leaving VHS
Many teachers are leaving VHS but what are their legacies?
Mini Article: Charlotte DiPaolo
Math teacher Charlotte DiPaolo will be leaving Ventura High School at the end of the 2020-2021 school year for Pacific High School. DiPaolo has taught at VHS since 2016.
DiPaolo said, "The opportunity to teach at Pacific High School came at a good time in my teaching career. I am excited to work with the administration and students at PHS."
In 2019, DiPaolo and two other VHS teachers created "The Academy" which focused on freshmen who aren't meeting grade level requirements in math. 
DiPaolo reflected, "My favorite part of teaching at VHS has been working with my colleagues and students. The Academy students and their families will always have a special place in my heart. This year since we've returned to in-person learning, I've enjoyed teaching my son (who is a 9th grader) and his friends. There are so many things I will miss about VHS, but I won't be far away. With two children here, I will definitely be on campus regularly. Hopefully when we are able to have dances, the administration will allow me to chaperone. I'm sure my kids would love that!"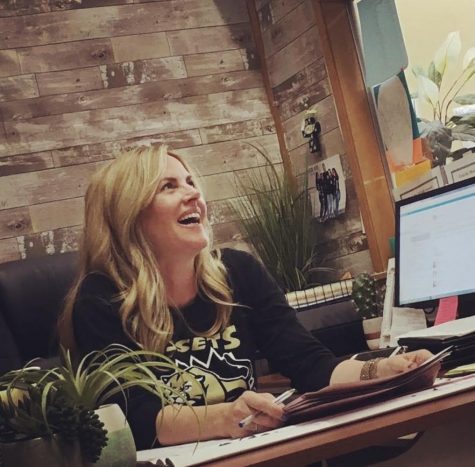 DiPaolo graduated from University of California, Santa Barbara with a degree in humanities, earned her teaching credentials from Mount Saint Mary's College, and recently earned administrative credentials from Grand Canyon University. Her goal is to build up students' self-esteem and belief in themselves by establishing trust. DiPaolo said, "Once I've created a relationship that allows vulnerability, my classroom becomes a place where people can ask questions, make guesses, and screw-up with a minimal amount of anxiety. We focus on self-awareness by learning lessons about trauma, I share personal stories, information on brain health, and we meditate every day."
DiPaolo commented, "Colleagues and students have expressed sorrow and support. It's especially difficult for me to leave the academy teachers and math department. VHS truly has the best math department in the state of California, maybe even the world. I hope that I have impacted the students and faculty at VHS in a positive manner. I hope that I've inspired people I've come in contact with to live their best life with compassion and curiosity. I want my students to continue meditating, seek ways to serve others, and be life-long learners."
Mini Article: Sebastien DeClerck
Sebastien Paul DeClerck is a French language teacher. DeClerck has taught at Ventura High School since 2005. He won the California Teachers of the Year award in 2013. After sixteen years at VHS, he has announced that he will begin teaching at Pacific High School for the 2021-2022 school year.
DeClerck said, "I will deeply regret leaving a position in which I was able to spend all four years with the same group of students, watching them grow from freshman to seniors, learn a language, develop relationships, navigate life and high school and see them graduate knowing I had spent nearly 800 hours with them. They were my inspiration and my joy and we celebrated and mourned so much together; they became my friends and I love them. I mourn the loss of daily interactions with my colleagues, whom I see as unbelievable educators and who have become my closest allies and friends.  I will miss having coffee with them each day and our Thursday lunches together. I know the good fortune VHS' students have in being educated by such people, experts in their fields who genuinely know, love and care about the students they serve."
DeClerck was born in Montréal, Canada to Belgian parents. He moved around in his childhood between Los Angeles, California and Bruxelles, Belgium.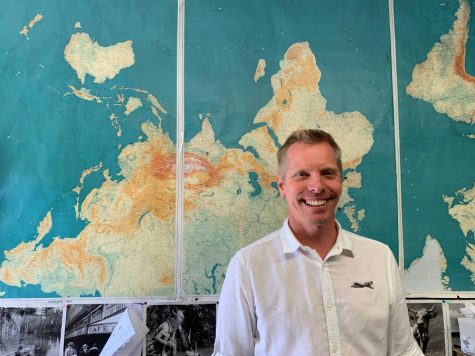 Colleagues and students of DeClerck have expressed sadness but also understanding at his departure. DeClerck said, "There is rampant social injustice in our world, our community, and our schools. The rich are getting richer, the poor sicker and poorer and systems- justice systems, economic systems, and educational systems- have contributed to and perpetuated those injustices, most often affecting people of color. I used to think I could make a difference by working with educational administrations and changing the systems, but 22 years as a teacher have, instead, demonstrated that the greatest manner in which I can effectuate change is in my support with students in the classroom. I started teaching at the California Youth Authority four years ago in the evening and I realized, in that work, that my greatest impact against social injustice would be to work directly with underserved and marginalized populations. I decided to focus the second half of my career on serving that population." 
DeClerck has a Bachelor of Arts degree in Italian and Philosophy, which he got at the University of Southern California. He has a masters in English from National University. DeClerck speaks French, Italian, Spanish, and English.
DeClerck commented on his legacy, "I dare to hope that I re-ignited an interest and a value in learning a second language and, for our heritage Spanish speakers, a third language. I hope that I have exposed students to another culture, not because it is interesting and exotic, but because it provides them with another set of eyes with which to see the world."
Note: The Cougar Press reached out to the other faculty members leaving VHS this year for a comment, but did not receive a response.