Opinion: Review of a Book: "The Power"
 Lover of books? Take a look at a Cougar Press staffer's review of Naomi Alderman's critically acclaimed novel.
This is a spoiler-free review.
What would one do if it's the present day and young women start developing the power of releasing electrical jolts from their fingertips? The 2016 novel "The Power" by British author Naomi Alderman explores this question, and I got to say it's pretty interesting.
The book follows four main characters — Roxy Monke, Tunde Edo, Allie Montgomery-Taylor, and Margot Cleary. Almost all of the book's main characters are female, except Edo, who is a male journalist. 
For anyone who may want to read this book, for the most part, Montgomery-Taylor— who is a troubled sixteen-year-old when the story first starts — goes by the name of Eve (then later, Mother Eve) after escaping to a convent in North Carolina. I also want to warn potential readers that there's a couple of mature scenes and topics in the book (i.e. rape and sexual abuse, respectively.)
The book's timeline takes place over a decade leading up to a big event, which is named the "Cataclysm" in fictitious correspondence letters between the in-universe author of "The Power" and Alderman. In my opinion, the correspondence letters are a cute little addition to the story, they add flavor to the rest of the book's antiquity.
As the power of the young women continues to pop up internationally, you see men trying to get back in control. They are trying to be superior to women, and of course, women are retaliating. I was rolling my eyes every time the male gender came together in protesting to harm women or imprison them. Needless to say, almost all of the men in this book are pretentious.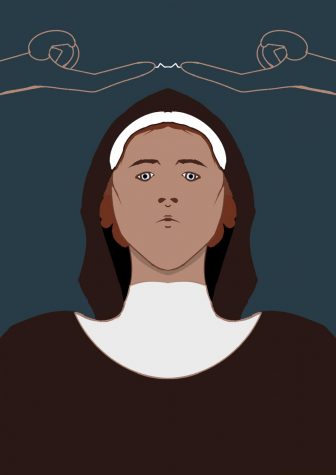 Sophomores Isabella Dazal and Indigo Christensen were asked if they would like to live in the world of "The Power." Dazal said, "No…because I feel like that would be too confusing." Christensen answered, "I guess…it's a kind of interesting situation." 
Furthermore, Alderman develops each character's true colors very well. Cleary, for example, has a caring personality towards her family, then Alderman slowly inverts her personality into a deceitful and untrustworthy one. I like how we get to see all of those shades of the characters, it gives them humanness.
I enjoyed the dynamic of Montgomery-Taylor /Mother Eve and her inner voice. At first, I thought the voice felt unnecessary. But as I got deeper into the book, I realized it was like a guide to Montgomery-Taylor. We all have that inner guide that we talk to when we feel like something is wrong. That is what Montgomery-Taylor's voice is to her, besides being God's voice to her as well. 
When asked if she had the power to use for good or evil, junior Lisa Rodriguez answered, "Probably evil." 
This story dives into what a blossoming matriarchal society would be like. But, during the uprising of the power, we see Tatiana Moskolev, the Moldovan First Lady become this abusive megalomaniac. In my opinion, Alderman perfectly showed how this particular leader treated every person working for her horribly. I was shocked, disgusted, and overall irritated when Moskolev was in the scenes. 
In conclusion, "The Power" is one of my favorite books I have read in a long time. Albeit being complex and complicated, Alderman's writing makes it worth the read. I recommend this to anyone who needs a good feminist book. And make sure to look out for Amazon Prime Video's upcoming television series adaptation of the book!