"Oh, I thrifted it!"
Thrift shopping is quickly growing in popularity, how do Ventura High students feel about contributing to the "thrifting" industry?
Popularity for thrift shopping has grown rapidly over the past few years. The appeal of finding one of a kind pieces has drawn more and more people to thrift stores. The main group that "thrifting" seems to be attracting is teenagers. Ventura High sits a mere mile from downtown Ventura, a thrifting central in the Ventura County area. With second hand stores so close, thrifting is becoming an easy and affordable way to find clothes that can fit anyone's style. 
"During summer, I go [thrift shopping] probably once a week or every two weeks. Now when school is happening I'll go probably once, twice a month. I go whenever I can or whenever I want to because they are so close," sophomore Sophia Sletten said. Downtown Ventura contains several different thrift stores, drawing people down frequently to find new items. Sletten shared her favorite thrift stores, "My favorite one downtown is the Coalition thrift store, and the Avenue Thrift Store is probably my favorite one that's not downtown."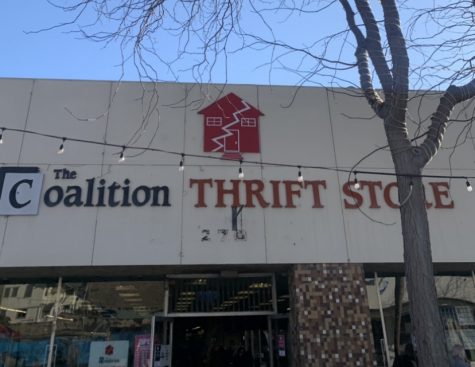 The Coalition is a thrift store that regularly donates to support survivors of domestic and sexual assault. Many thrift stores are known for donating to different causes. Goodwill, a widely known thrift store chain, provides jobs for those who may have difficulty attaining a job elsewhere. Thrift shopping is also an alternative for buying from fast fashion brands. "Fast fashion is gonna be a disaster and it's only getting worse. It's not something that I completely dis, but any time you can, go to the thrift store," Sletten said about fast fashion. 
Sophomore Alex Elliot said, "I don't like it, that's why I go thrifting," when asked about her thoughts on fast fashion. While thrift shopping is a sustainable way to reduce pollution, there are also mixed opinions on who should be able to go thrifting. Ideas have risen that those coming from low income households should be the ones shopping at thrift stores, because purchasing clothes second-hand is a cheaper alternative to buying brand new clothing. Elliot said, "I think anyone can go thrifting, but since more people are thrifting now, they are raising the prices. So maybe people that have higher incomes should back off." 
Sletten offered her thoughts, "I didn't know that that was a controversy. I don't understand that because there are so many cute things there [thrift stores] and people these days, this is what we like [. . .] I think that it is a really good option for people that have a low income, so yes I think that they should use that resource, but I don't think that if you tell someone you thrifted something it should be disappointing." 
Both Elliot and Sletten seem to agree that thrift shopping is not exclusive, and should be open to everyone. 
For teenagers, thrifting has become a cheap way to buy unique clothes. Though possibly not intentional, thrift shopping is also a sustainable alternative to fast fashion pollution. Popularity in thrift shopping has grown rapidly recently, with Ventura High students contributing to the popularity surge.