Battle of the Languages
Spanish, French, Italian: a feature on the VHS foreign language department
Spanish, French, Italian: a feature on the VHS foreign language department
Students at VHS get to choose between Spanish, Italian and French offered by the foreign language department. One course of either a foreign language or performing arts is required to graduate, or two years of the same language to meet the A-G requirements and qualify for a UC/CSU. Ventura Unified School District also gives the option to apply for the California State Seal of Biliteracy for students who have completed the fourth year or higher with at least a B grade.  
Teachers in the language department at VHS choose to teach the language they love. Italian 1, 2, 3 and 4 teacher Claudio Lonardo said, "I know that's a job for me but time goes by super fast, that's because I do something that I love. Seeing those results like those Italian 3 and 4 kids, seeing them, listening to them, watching them grow. I have all my family in Italy so this is for me, to share my story, family, my culture, as long as the kids are interested, I am happy to share this story to them and it's fun." 
French teacher Olivier Cougard said, "I am a French citizen and I choose to teach French because I have always loved my native language. When I was a student, one of my favorite activities was to write essays in French. I studied journalism because I knew that I loved writing stories in French. I enjoyed writing articles for French newspapers, or reporting for French radio and TV. After 10 years as a journalist, I wanted to change careers but I still wanted the French language to be a prominent part of my job. So I chose to teach French. I think it is such a meaningful job, and I enjoy seeing my students making progress in French." 
Spanish 1 and 2 teacher Grace Ellberg said, "I chose to teach Spanish because I lived in Spain, and am passionate about languages and culture. I tell my students that in addition to teaching them the Spanish language, it is important to teach them about the cultures that speak the language."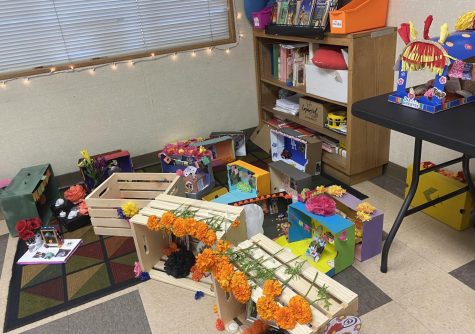 When asked about VHS's foreign language credit requirement Cougard said, "To be honest, I don't think it is enough. I think that each student should learn at least two foreign languages. The sooner you start to learn a language, the better you will be, so that's why I think learning foreign languages should even start at kindergarten level."
Lonardo doesn't think the credit is enough, he said, "Sometimes kids take classes just because it's a requirement or for college but if kids start taking a language for themselves, the way they learn is different and they retain more."
Freshman Phoebe Ayres who is in Alejandro Hernandez-Perez's Spanish 2 class said, "VHS doesn't teach enough languages".
Cougard said, "As a member of the foreign languages department, I always think that the more choices you offer to students, the better it is. So I hope in the future that even more languages will be offered at VHS." 
"I feel VHS does have a good amount of languages, but I feel like it would be nice if they added another language," said freshman Alina Olea Lazaro from Lonardo's Italian class.
Benefits of being bilingual can affect the brain on a cognitive level, as well as helping open opportunities for careers. Ellberg said, "Spanish is used so widely that students have a lot of opportunities to practice. Living in Southern California is an opportunity in itself!" 
Ellberg said, "Being bilingual has allowed me to get to know people from all over the world! It has inspired me to travel to every Spanish speaking country. It is the coolest thing to be able to chat with someone who is somewhere different!"
Cougard said, "I can not emphasize enough how being able to speak multiple languages has helped me in my life. I would have never been able to get that job [foreign correspondent]  without being fluent in Italian. Foreign languages have been the most important skill for me and it has had a tremendous impact on my personal life and my career choice. When you learn a foreign language, you also learn another culture. This gives students another perspective, helps them be curious, flexible and open-minded, these are skills that you will need in any job." 
There is no doubt being fluent in more than one language can help you in life, but students' levels vary depending on how much they pay attention, having a history of this language and how long they stick with it. 
Ayres said, "I'm not confident in the language I'm learning [Spanish] yet".  
Lonardo said, "The way you think the way you open your mind when you learn another language is unbelievable."