Club feature: Black Student Union
VHS Black Student Union ran by Bobbie Richards fundraises, discusses and leads
"The Black Student Union is a union throughout the country […] So we wanted to make sure we had one at VHS campus, which we've had for as long as I've been here and that's been 16 years. It's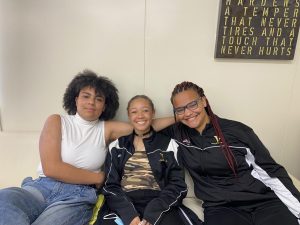 been here, it's been around," said VHS Black Student Union advisor Bobbie Richards.
"I joined BSU because I felt like I needed to connect with more people who are like me," said senior Kayla Poole, "Personally, BSU means that there's a community here on campus that allows me to feel included."
Black Student Union is an organization on a national level and state level. VHS's BSU is a part of California's southern region, there are some regional meetings and elected students to assist the running of it.
As well as leading SAP (Student Assistance Program) groups and assisting VHS students as VHS SAP counselor, Richards is the BSU advisor.
"It's [BSU] designed for Black students or students of African American descent to find [and] to have a connection to address some of the concerns they have, whether it's on campus or something they saw on the news and want to discuss because they probably would not otherwise, an opportunity to be able to tap into that voice their opinion and get some kind of understanding or even to vent if that's the need. To get to a place where they understand what's going on just period," said Richards.
Richards also makes clear that although the title BSU would imply that only black students can join, BSU is open to all diversities, ethnic races or cultures. She said, "This is because BSU believes that everybody is part of the United States […] we all have to live together and because we all live together […] Everyone has something to offer. However the majority of students apart of BSU are Black or African American descent."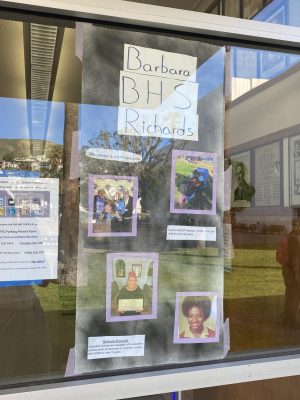 Richards involvement in BSU is completely voluntary, she said, "The opportunity for [BSU] to be resurrected on a yearly basis on a school year basis is up to the students. I dont initiate anything other than making myself available if a student wants to go forward with BSU and they need an advisor and they ask me to do so."
BSU is a student-run club, "I work in conjunction with the president when it comes to the topics that are going to be discussed or the activities that are going to be run. For the most part it is a student run," said Richards.
"It [Black history month] means that they [BSU members] almost have an obligation and certainly an opportunity to be visible on campus by putting information out there in the school community about African Americans who have made significant impacts in our world and in our history because otherwise it would not be out there, otherwise it would not be considered, otherwise it would not be thought of, and a lot of it certainly would not be learned in their high school or in any part of there education so given Black history month is a title of self pride and it a time of self awareness," said Richards regarding Black history month and BSU. "Making us known and putting information out there because it's important to remember our heritage because it could be lost, it has been lost, it was already, you know, stolen. We dont want to negate any opportunities we have to share that information."
Jazmine Kinchlow is a freshman in BSU, she explained why she joined. "I was already friends with the president of the club who encouraged me to join. It also just sounded fun to be around people like me."
"I think that [BSU] is important to have a safe space and friends in a school setting and BSU gives you that, it also has people there who have similar experiences to you," said Kinchlow.
Kinchlow said her favorite thing that BSU does is the food faire. "It [food faire] is a lot of work but you feel really accomplished after and it gives our club some funds," said Kinchlow.
The BSU is currently participating in a door contest, where doors throughout VHS showcase a person that influenced or influenced the Black community. Buena high school's BSU is leading the contest, where they will be the judges. The Cougar Press staffers, Isabella Fierros and Emily Nguyen, have made a photo gallery on these doors. As well as the door contest, BSU participates in historically Black college tours and fairs, the VHS food fare and other fundraisers.