The Sletten sisters are the top duo on the VHS beach volleyball team
In the 2022 season of girls beach volleyball, Olivia and Sophia Sletten are proving to be quite the set
Senior Olivia Sletten (#13) and sophomore Sophia Sletten (#22) are in the top spot for duos on the beach volleyball team at Ventura High School during the 2022 season. This is also the first season that beach volleyball is a CIF sport at VHS. This season, Olivia Sletten is also captain of the varsity beach volleyball team. 
"It's so sick to be a part of and be the captain of the first CIF beach volleyball team at Ventura. I'm excited to have the Santa Barbara team's in our league for some more good competition," said Olivia Sletten. Being part of CIF this year opens up the VHS girls beach volleyball team to playing with more teams in the league. 
Sophia Sletten also expressed her eagerness to play against Santa Barbara teams: "It is exciting that we have Santa Barbara team's in the league for some more competition."
So far in the season, the team has competed in four official league games, winning all but their most recent game against Santa Barbara on March 17. Sophia Sletten shared her hopes for the rest of the season, "My hopes for this season is just to have a lot of fun and get the program going, because it is a first year CIF sport." 
Both sisters have had previous beach volleyball experience before joining the VHS team. Sophia Sletten said, "I have been doing beach volleyball competitively since freshman year, but overall I have been playing for three years."
"I've been playing volleyball for ten years, and I've been playing beach volleyball for six years," Olivia Sletten said.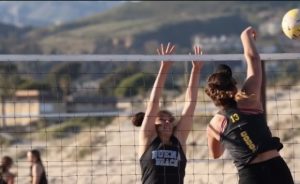 This year is different for the two players, because they are on a team together this season. Olivia Sletten expressed her feelings playing with her younger sister this year, "Sophia and I have always been incredibly close. Some people might have problems playing with their younger sibling but it is honestly the best to be able to play and compete with her. It's been so cool to be able to watch her get better and better over the years, and now I get to cheer her on and celebrate with her as her partner." 
Sophia Sletten expressed similar feelings: "I love having Olivia as my partner. I think it is a good and fun way for us to bond, especially since she will be heading to college next year."