What's the word about Wordle?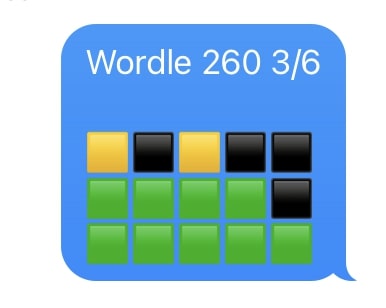 The game "Wordle" had found its way to the VHS campus, and is nowhere near unpopular
Wordle, a word game from England has recently sweeped the nation, and it's made its way to the VHS campus. Many students can be overheard in the halls talking about that day's Wordle. 
The point of Wordle is to guess the five-letter word in six guesses or less. Each day, there is a new word for players to guess. Many players run the risk of the word being spoiled for them if they do not play it early enough. 
The game was released in October 2021, but gained popularity on TikTok in January, and it was bought by the New York Times at the end of the month. This acquisition sparked outrage throughout the Wordle community, as they feared that daily Wordle would no longer be free. However, according to The New York Times, "Wordle will be free to play for new and existing players, and no changes will be made to its gameplay."
Wordle has had its fair share of spin offs, including Taylordle (about Taylor Swift), Heardle (guess the song), Nerdle (math equations) and many more. But the original version remains the most popular.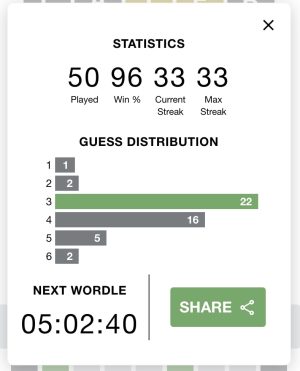 "My favorite thing about Wordle is the addiction," said senior Martie Pecht. She, like many other players, keeps up a streak. She has been playing for "41 days in a row." When players play (and guess the word right) for multiple days in a row, they earn a streak. The streak is broken when that day's word isn't guessed, or players dont play that day.
The Wordle website uses the statistics, and keeps track of the player records to know their playing habits. The statistics available are the number of Wordles played, the win percentage, the players current streak and the players max streak.
Wordle is one of the few "games" that are not blocked on school computers. Likely because it is considered "educational"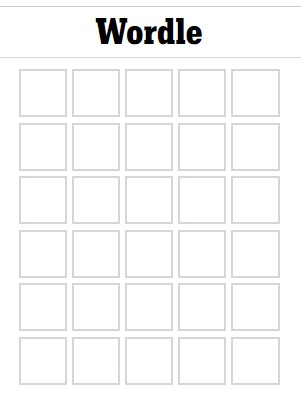 by many people. Word games in general are known to increase vocabulary, but when the daily Wordle is difficult, it just makes it harder to guess.
"You kind of already have to know words to play Wordle, so it doesn't really help you [learn new words]," said Pecht. 
In the traditional Wordle gameplay, there is a "hard mode" option, which forces players to use all hints that they got (green and yellow letter placements). When in hard mode, the program won't let players guess words with letters in spots that they know that they will not be in. There are many different strategies to playing Wordle, but they all have one final goal: to guess the word as little tries as possible. 
Junior Reese Whitley said, "I look forward to [the Wordle] everyday, and it's just fun and exciting and it expands my vocabulary." Like Whitley, many students look forward to playing that day's Wordle. 
With Wordle only being playable once a day, many players look forward to playing the next day's Wordle, and some even stay up until midnight to play it as soon as it becomes available.