Movie review: Don't Worry Darling
After a swarm of drama surrounding the "Don't Worry Darling" premiere, the movie received mixed reviews and ratings
"Don't Worry Darling," a psychological thriller directed by Olivia Wilde and starring both Florence Pugh and Harry Styles hit the big screen on Sept. 23. The movie received a lot of attention due to Styles already being a world-famous singer. As the premiere got closer, the film gained more publicity due to drama surrounding the stars, which involved conflicts between the actors on set.
Because of the drama surrounding the cast days before the movie was released, attention was withdrawn from the movie itself and focused on the stars. This caused the movie to be taken less seriously and as more of a celebrity-filled joke. 
This article does contain minor spoilers, so if you have not seen the movie and do not want it spoiled, stop reading now. 
However, "Don't Worry Darling" proved to be a far more complex and sophisticated film, putting to rest the previous drama it had stirred up. The setting the movie took place in was aesthetically pleasing, the outfits were adorable and the acting was impeccable. ["Don't Worry Darling"] was really good. The acting was incredible, and not even just Harry but Florence and all of them," said Cece Perez '23. 
"Don't Worry Darling" follows the couple Jack and Alice Chambers through their life living in a town called Victory during the 1950s. Jack Chambers, along with the other men living in Victory, work for "The Victory Project," a job that does not allow them to share any information with their wives. Alice Chambers lives the seemingly perfect life as a housewife until she notices strange events happening in Victory and begins to uncover why they are really living there.
Perez said, "Definitely not what I expected, I was expecting this whole entire different story. I thought the movie was definitely gonna go in one direction but then it just completely went into a different direction with the whole entire backstory on how they got to Victory and everything, so I was like 'oh my God.'"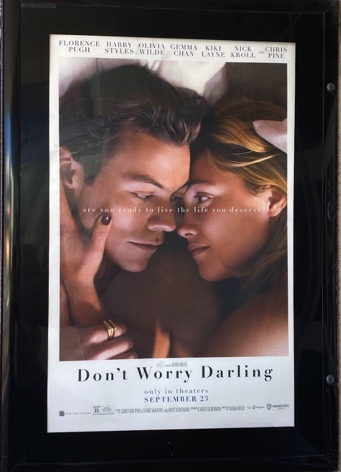 Despite this being Styles' first major leading role, he executed his part nearly perfectly. Placing Styles and Pugh together was a well-thought-out move, especially with Pugh's range of previous acting roles. Kaitlyn Seymour '24 said, "[Pugh] looked and acted perfectly."  
If there had to be something to criticize, it would be the unanswered questions viewers were left with at the movie's end. "I don't feel like it truly finished, there were still some things that could have been wrapped up [better]," said Seymour. Although Wilde definitely left several plot holes that needed clarification, the movie falls under the psychological thriller genre, meaning many points of the movie that viewers consider to be "plot holes" are meant to be unanswered and up to interpretation. 
Another questionable aspect of the movie was the fact that Wilde, as the director, gave herself a considerably large role in the movie, while at some points it would have been nice to see more of the other characters, such as Margaret (played by Kiki Layne). 
Despite the few critiques this movie has, it was a truly impactful film filled with shock, surprise, humor and powerful female figures. Watching "Don't Worry Darling" will leave you speechless and in awe, making its unanswered questions play a background role that fails to weigh down its overall message.