VHS Mental Health Awareness Club to begin its "Pour out your subconscious" project
The MHAC club is searching for help in completing its project
The VHS Mental Health Awareness Club has begun planning its upcoming "Pour out your subconscious" project. The project will focus on allowing the VHS community and its students to express themselves freely through note-writing. The project does not have an expected release date due to a lack of members and resources.
The MHAC expects universal participation from the VHS community. MHAC President Duncan Kenton '24 and Vice President Kamilah Montes de Oca '25 jointly created the project. The project is intended to acknowledge VHS students and make them feel like they are in a community.
Kenton said, "We created the project as a duo because we wanted to showcase the truth about mental health in our school by interacting with students. Mental health at VHS has never been good or 'good enough.' There are many issues across the board and covered up. Students' voices still continue to be suppressed and not acknowledged. I definitely know as a community we can do better. I hope that it will slowly but surely have a good impact on the community by allowing peers to be more open with one another and have a little bit more understanding and connection. With a little bit more of this, I genuinely believe we can be kinder, too."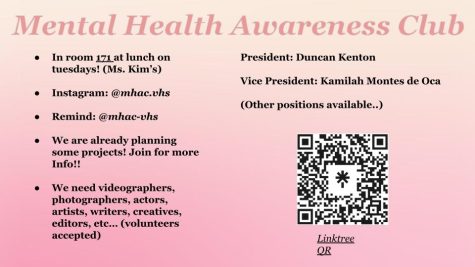 Kenton said, "We aren't sure about [the release of the project], but once we get them started, we can give a time release estimate. We are trying to start the subconscious project as soon as possible. It's very hard to say when [it will happen] because starting a club, doing things for the club, while trying to the balance the life of school can be overwhelming so nothing will be released till [there is] more promotion."
Montes de Oca said, "One of the goals for the ['Pour out your subconscious'] project is to share the message [that] you aren't crazy, stupid, weak or annoying for feeling the way you do. It's normal to be saddened or angered by your struggles. You aren't alone."
As of Jan. 13, the club has six members, but it is welcoming new members to aid with the project. The club meets during lunch on Tuesdays in room 171. Students can join the club by attending a meeting, messaging the MHAC's Instagram (@mhac.vhs), asking Kenton or Montes de Oca, or joining its Remind.
Kenton said, "We are at the moment figuring [the 'Pour out your subconscious' project] out, but through the grapevine of friends, peers [and] posters we are striving for more members. That's [my] goal for the time being."