Seniors: put on the waitlist?
As VHS students receive their admissions decisions, many are left with even more waiting
The college application process is a stressful time for many VHS seniors, and as students start hearing back from colleges this March, anticipation is extra high. However, students don't always receive a clear response from colleges. This complicates many students' post-graduation plans, and many won't know if they got off the waitlist until May or later.
Many colleges tell students to secure their spot at another university before they let them know if they have gotten off the waitlist. This means submitting a nonrefundable deposit of anywhere from $100 to $1,000 before even knowing if they are going to be attending that college. So, if they submit their deposit and then get into their waitlisted school, they lose a lot of money. This is an additional stressor for incoming freshmen whose futures are already uncertain. 
Jack Gordon '23 said, "I have been waitlisted at UCSB and UCSD but have not accepted the offers."
Jasmine Bruns '23 said, "I was waitlisted from UCSB."
Some students choose not to join the waitlist and accept other offers. Declining to join the waitlist and rejecting acceptances from schools they don't plan on attending opens up the chances for students who really want to go to that university.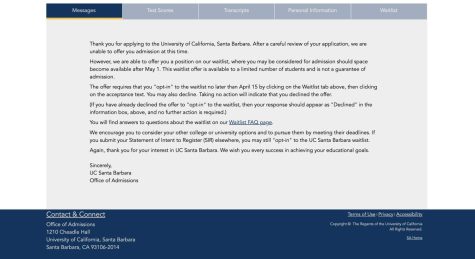 Gordon said, "I'm committing to UCSC and not joining [a] waitlist."
Bruns said, "I have other options so [UCSB] is kind of out of the picture now."
This year the University of California received 206,405 applicants, and nationwide acceptance rates are declining, according to a Prepory article on admissions trends. With many colleges becoming test-optional this year, the applicant pool has only increased and made the admission process even more competitive. Many strong candidates are being rejected and waitlisted just because there is simply not enough space for the amount of applicants applying.
University's acceptance rates give students an idea of how likely they are to be accepted. This year, UCSB had an acceptance rate of 29.2 percent and UCLA had an acceptance rate of 10.8 percent. However, colleges don't provide an estimate on how likely students are to get off a waitlist. Waitlist sizes depend from college to college and change every year. In 2022, UCLA put 15,242 students on the waitlist and only accepted 214 of them. Cal Poly had a waitlist of 9,600 students and admitted 990 of them. There is no way of telling the amount of students on a waitlist or how likely one is to be accepted. The whole process is a big waiting game.