Fortune favors the bold at Ventura High School
Highlighting the military as a career for VHS students
Students at VHS follow many different career paths after graduation. One of those paths is the U.S. Armed Forces, the largest single employer in the world with around 3.2 million employees. Students are offered many opportunities to learn more about the military, including frequent booths from different military branches which dispense information about recruitment and career paths. The booths are usually located by the flagpole near the senior lawn.  
Jayden Johnson '23 is one of the students who will join the armed forces following her graduation. Johnson said, "I am going into the U.S. Air Force. I am going to interview to be a mental health technician. It is a job that can't just be picked. You have to be fit for it, prepared and ready for anything. You have to be resilient and an extremely patient person who knows how to separate work from home."
Due to the size and scale of the military, there are a multitude of paths that individuals who are interested can take. These include enlisting out of high school, attending Reserve Officers' Training Corps at a college, getting hired as a private contractor and attending a military academy. 
Johnson said, "The route to the military is different for everyone. Some people choose to be in ROTC, others have a family background and make that decision immediately, [or] maybe this was the only choice they had. I personally made up my mind when I realized I was ready for more than just college. I want to do more with my life at an earlier age. I have a better shot personally to become something because of the military."
Another opportunity for students comes in the form of academy nights, which occur yearly sometime in May. These events are designed to inform students and parents about the military academies, which are colleges connected to the military. There is an Air Force Academy, Military Academy, Naval Academy, Coast Guard Academy and Merchant Marine Academy. All of these colleges offer some of the best programs in the nation in fields like engineering, chemistry, physics and economics.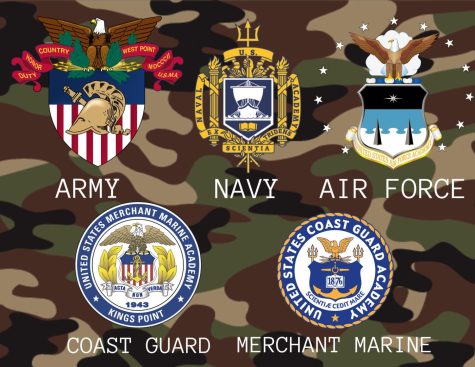 Due to their small size and high prestige, these military academies are highly selective in the admission process. 
John Demers, the representative of the Naval Academy, said, "[The academies] look for strong academics, a top performer in GPA and SAT score, involvement in athletics, evidence of teamwork, leadership potential and the ability to overcome adversity […] though all of these categories are not required as I have seen every kind of student be accepted to and succeed at an academy."
The military remains an option for all students at VHS, with paths available to all kinds of individuals. The military offers stable and meaningful careers yet requires full dedication and commitment.