TED Talk to be potentially held at Ventura High School
The event would be the first of its kind at VHS
Two VHS students, Emily Sehati '24 and Katie Wicks '24, along with assistant principal Elizabeth Botello, English teacher Elizabeth Mainz and ASB Advisor Ann Larson, are organizing a TEDxYouth event at VHS. TEDxYouth events are organized by and catered to young people. The event is scheduled for Sept. 15 in the Little Theater, and though it hasn't been approved by TED Conferences, the organization behind TED Talks, it is expected to be approved by late July 2023.
TED Talks are events that allow speakers to present their ideas to a general audience. In the case of VHS, students would be the speakers and they can speak about whatever most pertains to them. It would be the first TED Talk held at VHS, but it would be different from regular TED Talks as only 100 people will be allowed to attend the event for $5 each due to it being a TEDxYouth event. 
Sehati said, "Our goal is to get as many speakers as possible, in a way where we can get a diverse amount of voices, perspectives and ideas within this talk, but we really want to just hear and spread ideas that aren't typically found within a classroom setting."
Students may request to be a speaker by scanning a QR code on one of the posters advertising the event on campus by June 1. The QR code leads to a Google form, which asks questions to understand what one wants to speak about and their public speaking experience. Students may request to speak about whatever they like, so long as it does not violate the TEDx rules, which prohibits divisive language and overly political, religious, pseudoscientific or commercial-driven talks.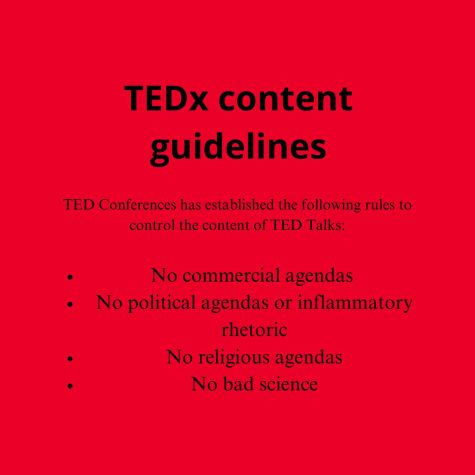 Sehati said, "This is our first time [hosting a TED Talk]. We don't really have an idea of how many speakers we're going to have. Technically, we're expecting to have as many people as possible. We are definitely going to have Mainz help us choose and filter through speakers. Katie and I, and probably Larsen, Botello, or [principal Marissa] Rodriguez [too], just because we don't want to be in trouble."
Sehati and Wicks are planning to hold speech rehearsals and check-ins throughout the summer of 2023 and nearing the Sept. 15 event. However, Sehati recommends that students join Model UN if they want to improve their public speaking skills for the TED Talk.
Sehati said, "A lot of perspectives and ideas are kind of kept away [from] a classroom setting. [Wicks and I] wanted students to talk about certain backgrounds, certain experiences and really elaborate on them and make them more personal. I feel like TED Talks are the perfect way [to] spread a certain passion or idea."
Mainz said, "We don't prepare enough students to be able to go out into the world and just talk and feel comfortable talking, and feel comfortable talking in front of a group. I think a TED Talk speech is a great away to practice that kind of speaking. I think it's a great idea."