What happened to Mr. Kim?
A look at what happened and what's in store for his students
On May 18, VHS' former temporarily assigned math teacher, John Kim, sent an email to all his students announcing he would no longer be their teacher and vaguely explaining what had happened the day before. The email from Kim read, "There are no longer any excuses for me to be a teacher at VHS. I have a meeting with the VUSD this morning at 7:30 a.m. and I already turned in my keys yesterday."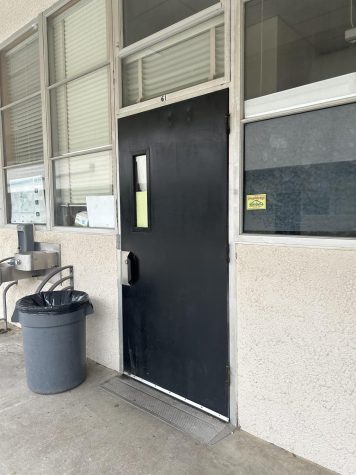 The event behind his departure occurred on May 17 during Kim's fourth period money management class. Max Pagliano '23, a student in his class, said, "We had some students in the back of our classroom who decided it would be a good idea to pound on the next door neighbor's door. The teacher from the other classroom came over and she told Mr. Kim [that] they can't keep going on. Mr. Kim went to go talk to them and [to try to] send the person [who did it] out. After that they started arguing, started cursing at each other and they just kept pushing his buttons." 
Pagliano added that students pointed their phone cameras at Kim's face. Pagliano said, "[Angering Kim] was obviously what they wanted to do. They wanted to get a reaction out of him, and I guess they got it."
Pagliano said, "[Security] must have heard him pounding on the door, but they came. [The security] opened the door and just asked if everything was okay."
VHS security then asked Kim to leave the class with them. 
VHS Principal Marissa Rodriguez said, "Mr. Kim was a teacher on temporary assignment here at VHS and is no longer on assignment with us."
Kim's class will be taken over by a long-term substitute teacher with VUSD experience.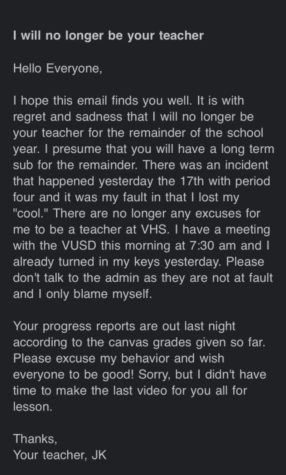 Rodriguez said, "As we have personnel changes during the year, we do our best to ensure a smooth transition for students. We encourage any student or family member who has concerns or academic support needs in those classes to contact our school administration directly."
Pagliano said, "[Mr. Kim was] a really good teacher. He's really engaging and I feel like he just got a bad class."
The Cougar Press reached out to Kim via email about the incident on May 19, but Kim has not responded as of May 31.