VHS prepares to say "farewell" to its foreign friends
As the year comes to a close, several exchange students reflect on their time in Ventura before returning to their homes across the world
In the 2022-23 school year, VHS played host to several foreign exchange students who came to stay in Ventura for the year. Liviya Nascimento '24, Elina Bahr '24, and Saana Jormalainen '23 came from Germany, Switzerland and Finland, respectively, for their foreign exchange year in the U.S. 
Foreign exchange students come to America through the International Cultural Exchange Services. The ICES is an official J-1 sponsor through the U.S. Department of State, giving students seeking experiences in the U.S. a visa to do so. Before a student showing interest in the foreign exchange program can join the program, they must take a language exam and participate in an interview with an ICES employee to ensure they can thrive in the U.S. 
 Many of these exchange students landed in Ventura a few weeks before the start of school, and will fly back to their home countries a few weeks after the end of school, so they will be able to continue to spend their summer with the friends they have made before returning home.
Nascimento came to Ventura from Geneva, Switzerland. While staying in Ventura, Nascimento is staying with Dani Simpson '26, a member of VHS track and field. "I've really enjoyed the year in Ventura. I really miss my friends and family at home and the food a lot," said Nascimento. 
California draws its visitors with its attractions, like Hollywood, the Channel Islands and the numerous beaches going up the coast. Ventura's foreign exchange students spent their year exploring these different attractions. Nascimento said, "Overall, I'd say [my favorite part of my experiences in Ventura] were the trips I did with my host family." 
Bahr is from Koblenz, Germany. While in Ventura, Bahr has been staying with Adalyn Moore '25, a varsity cheerleader at VHS. Bahr was drawn to California for the beaches. She said, "California was my choice because I wanted to be close to the beach and because I was hoping for good weather." Unfortunately for Bahr, California suffered severe rainstorms at the beginning of the year, reminding Bahr of Germany.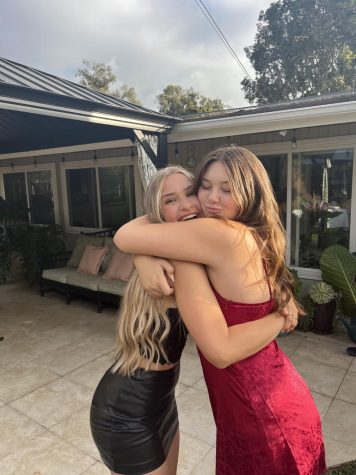 While these foreign exchange students have enjoyed their time in Ventura, they have also been missing aspects of their homes. Bahr said, "What I miss most is the freedom and the independence I had in Germany. Public transportation there is way better, teenagers are more responsible and I didn't have strict rules in contrast to what I got used to here."
Nascimento said, "I really miss my friends and family at home, and the food a lot."
Jormalainen is visiting Ventura from Helsinki, Finland. While Jormalainen is here, she is not staying with any VHS students. Her host family is Ron and Krista Stevenson, former VHS parents. "I have really enjoyed my year here, and I love Ventura. It's a perfect little beach town, and I will miss it a lot," Jormalainen said. 
While in Ventura, Jormalainen joined the VHS varsity girls basketball team. Jormalainen was eager to join the team at VHS because she was on her hometown basketball team back in Finland. 
Jormalainen reflected on her time spent in Ventura. "My favorite part was living in a warm place, experiencing American high school, and meeting amazing new people," Jormalainen said. 
As the year comes to an end, VHS prepares to say goodbye to its foreign exchange friends. However, the next school year is right around the corner, perhaps coming with more foreign exchange students.