The district is moving towards offering fresher school food
On March 31, 2023, the VUSD announced changes to school food at most district high schools for the 2023-24 school year. One of these high schools was VHS, which has successfully begun serving chicken and ground beef cooked from a raw state, unlike its pre-cooked predecessors. The VHS cafeteria also now bakes fresh bread in the mornings before lunch.
Louise Smith, who has been the VHS cafeteria manager for five years, said, "The kids seem to be happy with the food. I haven't heard any complaints this year."
Andre Bruns '27 said, "I like [fresh food] better. It tastes better. [But] I would add a bit more variety [to the menu]."
The VUSD continues to be committed to improving the quality of its school food. However, the future executions of its goal are not yet known.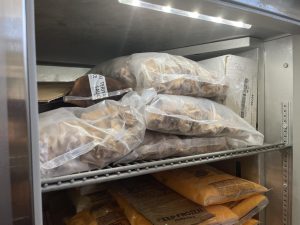 The district is limited in what changes it can make to its lunch service because of state and federal regulations. This is because they are often concerned with food safety, and making fresher food can compromise those priorities. Nevertheless, California high schools must serve students one cup of fruit and one cup of vegetables per day, as per the state department of education.
Kara Muniz, director of VUSD Food & Nutrition Services, said, "[We are] implementing more whole foods. We started with two raw meat items this school year and will build on that each school year as long as fiscally reasonable."
Muniz said, "We take pride in the work we do, and we always want to encourage students to provide constructive feedback. If you know of a group of students who would like to be a part of our future menu planning, please let me know. We will begin this process in late January [and] early February for the [20]24-25 school year."
Students can contact Muniz at [email protected] if they want to be a part of future menu planning.