A glimpse into the VHS girls volleyball teams
The VHS varsity girls volleyball team has won all 13 league games as of Oct. 6, losing none. Varsity is now first in the Channel League, while the JV and freshman teams do not have updated rankings.
Sophia Sletten '24, varsity outside hitter, said "The highlight of the season was definitely our game on [Sept. 14]. It was against [Santa Barbara High School] where we competed for first in the league. So now we're 7-0."
After varsity won its first seven games undefeated, they continued to win the next three games. They won their most recent game against Oxnard High School with a score of 3-0.
Kate Duffey '24, varsity team captain and setter said, "Our team chemistry is really good. We all have good relationships off the court too."
Varsity's game against SBHS was very close, with the final set's score being 17-15 for VHS. Both teams were undefeated before the match. Duffey said, "[The highlight of our season so far has] probably [been] our away game against Santa Barbara. We beat them like right at the end. It was really close."
Talia Denger '27, who saw varsity's game against BHS on Sept. 19 said, "I think other people should go to volleyball games, because I feel like volleyball needs support and it goes better when they have more people are [at games] and [the volleyball games are] very just fun to watch."
Mia Howard '27, JV player said, "[Our seasons are] going really good. We've only lost to one team."
 The freshman team has three team captains. Amanda Tepaske '27, one of the captains, said, "[Being team captain] feels really great and I feel important on the team."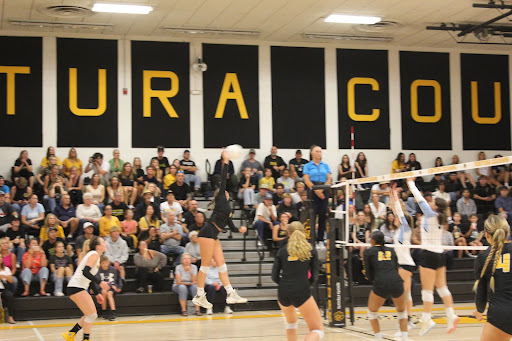 Tracy Duffey, freshman coach, said, "[The freshman season is] going great. My girls are doing awesome. We have only lost two league games and we've done really well in all of our games. They've grown so much this season from what they started as."
On Sept. 26, the freshman team played OHS and won after losing like they did lose to them in the first round. Tracy Duffey said, "We came back and beat them[with a score of 2-0]it was an awesome match. My girls played so good and I know they really wanted that one."        
All three VHS volleyball teams are performing well in their leagues. Ashlyn Seymour '27, freshman player, said, "[Volleyball is] really fun. You guys should come and support."