Censorship? Not in the VHS library
Ventura High School's library offers many sources of information for students, one of which is magazines.While a student may not be able to read every magazine, there are a variety of choices in the library.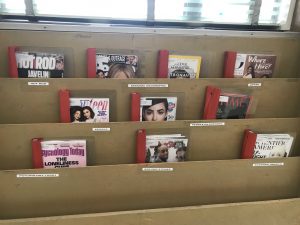 However, this variety could soon shrink. "We have fewer magazines than we had many years ago because a lot of magazines are going out of print and going online and it seems that fewer and fewer people are even looking at magazines. So, I think in the future we're probably going to get fewer and fewer magazines and maybe just rely on the online versions," explained librarian Susan Adamich.
When asked if librarians review a magazine's content before putting it on the shelf, Adamich said, "We want to keep everything school appropriate and all of our magazines have some educational value because it's a school library, so we want our magazines to be something that one, is interesting to our students and secondly, that go along with our classes. Now, something like 'People' probably isn't something that goes along with the classes but it is current events."
In the newest edition of the Rolling Stones Magazine, there is a picture of the famous rap group, Migos, smoking marijuana on the front page. When asked why this was in the VHS library Adamich replied, "We don't censor. We don't censor library books. Now, we don't want anything that is promoting violence, or anything that has nudity, anything like that. That would not be appropriate for school but people's lifestyles [are] not something we censor."
The VHS library also encourages students to view articles from different academic magazines in the Gale Database, which can be accessed online.
Interview with Adamich by Liliana Lara.