Ventura High School's student athletes have been committing to colleges in order to continue to pursue the sport they're passionate about. Most student athletes that are committed are seniors, which gives these students the liberty to not partake in the stressful college decision process.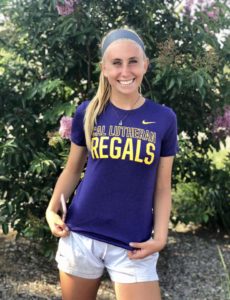 Senior Kylie Garcia committed to California Lutheran University in the beginning of August 2018. Garcia explains that she had been talking to the coaches at Cal Lutheran for over a year as they had watched her club soccer games and expressed interest in her multiple times.
After looking into the school, it became one of her top choices until she finally committed. Garcia explains that Cal Lutheran is perfect for her because, "[She loves] the location, the campus, the size, the coaches, the soccer program, and the fact that it has a one of the best programs for Exercise Science in California, which is what [she wants] to major in. It's a great fit all the way around and [she] couldn't be happier." Along with getting to continue to play her favorite sport, Garcia is most looking forward to "creating new friendships with the girls on the team as I feel like they will become like my second family while I'm there."
Senior Sailor Hawes committed to Gonzaga University on Oct. 1, 2018. Her process was similar to Garcia's; the summer before her junior year, Hawes started reaching out to college coaches and kept in contact with the coaches she heard from and eventually narrowed down the number of coaches she would communicate with to her top three schools. "I knew I wanted to go to Gonzaga University because they have a good science program and I want to major in biology, and I really liked the vibe of the team and the coaches," explained Hawes on why she chose to commit to Gonzaga. She is most looking forward to starting over with a new team and is excited to see where she can go with rowing in college.
Senior Carlos Aviles currently has a loose verbal commitment to Ohio State University. For Aviles, the recruitment process began a little after his junior year. Colleges began reaching out to him after his success in track and field. Aviles would enjoy attending Ohio State because "there have been some other colleges [that he has toured] but they haven't given [him] the same experience that Ohio has given [him]." Aviles is looking forward to creating memories with his future teammates and coach.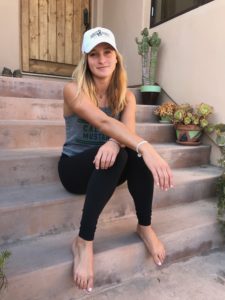 Senior Josie Ulrich committed to California Polytechnic State University in San Luis Obispo on Aug. 13, 2017. Ulrich also was contacting coaches for beach volleyball and started getting offers in the spring of her sophomore year. She explained that she chose Cal Poly SLO because "it was the best athletic and academic fit for [her]. [She loves] the vibe and environment." Ulrich is looking forward to forming relationships with her new teammates and coaches and is happy to already have a group of friends going into college. On top of how great she feels her college experience will be, Ulrich is, "super stoked to see where beach can take [her]."
These students athletes have been committed to their sports and have gone through the college recruitment process to show other VHS students that if they put their mind to it, they too can play their dream sport at the perfect college for them.