Looking for Scholarships? Here's where to find them
There are many scholarship opportunities awaiting as college approaches for this year's seniors. 
According to Josh Francis, the College and Career counselor at Ventura High School, the most commonly applied for scholarship is the California Middle Class scholarship and "the most popular grant is probably the 'Cal Grant.'"
The Middle Class Scholarship provides undergraduate students up to 170,000 dollars in aid to attend any University of California or California State University. The Cal Grant provides similar aid to undergraduate students.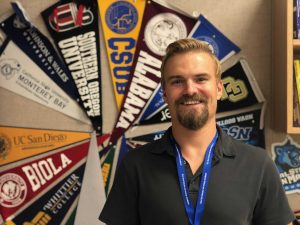 According to a Twitter poll conducted by The Cougar Press, students were asked if they would be applying for any scholarships other than FAFSA. Out of 28 students, 82 percent of them voted "yes," while 18 percent of them voted "no."
Some of the scholarship options available are the Wings Over America Scholarship, which is for dependent children of US Navy Service members, the Horatio Alger Scholarship, for seniors who demonstrate critical financial need, want to complete a bachelor's degree and are involved in co-curricular activities, and the Coca-Cola Scholars Program Scholarship, which is an achievement-based scholarship.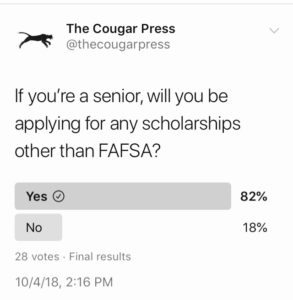 To get more information on these scholarships and to discover more scholarships, go to the Career Center to pick up the scholarships paper. Students can also visit fastweb.com to find additional grant and scholarship opportunities.