Hypebeasts of VHS: Does brand wear equal good style?
In popular culture, a new term has come into use in the past few years: "hypebeast" – a person who puts in substantial effort to observe all the latest "hyped-up" trends, whether it be in fashion or another component of popular culture. More than a few Ventura High School students can be seen observing a "hyped up" trend, whether it be wearing large name brands such as Louis Vuitton and Supreme or ones often disregarded as "hypebeast" trends such as Dr. Martens and Patagonia, which are also dependent on their popularity and brand.
Ultimately, the hypebeast culture poses the question of whether being deemed as "having good style" is dependent on the status and popularity of the brands being worn, or a different factor, such as originality or individualism of one's clothing.
Junior Sage Kirkpatrick reacted negatively to this question, saying "I think you can find clothes at the thrift stores that are better than hypebeast stuff," also adding that very often, people who follow these trends "pay too much money for cheap [quality] clothing."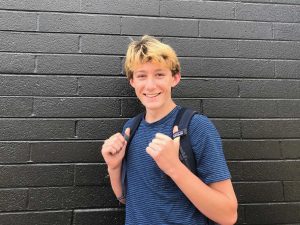 Senior Christine Martin agreed, arguing that hypebeast culture does not equate to good style, but simply spending more money on one's look. She commented, "I think that hypebeasts flex how much money they spend on clothes even if the clothes aren't fashionable."
As for the appeal of wearing brands, many students hold the opinion that wearing brands and following trends helps one feel "a sense of belonging to society," according to Kirkpatrick, as these trends provide a unifying culture or trend amongst people who enjoy fashion.
In addition, Martin commented that she can understand the appeal of the trend, as she often sees similar looks "on social media, on Instagram and with celebrities."
As Paris Gaston commented, "if that's how people want to express themselves, then everyone should respect that."
[cvm_playlist theme="default" aspect_ratio="4×3″ width="640″ volume="30″ videos="5165″]