When in doubt, go for a hike
There are some places in the world that the only way for humans to get there is to hike. And Ventura High School senior Bennett Cvijanovich is one of those people that can tell you all about some of those places.
Cvijanovich first got into hiking because he has "always been surrounded by it." Whenever he has traveled, there has always been a lot of people hiking, which has encouraged him to start for himself. He also began doing minor hikes when he really got into photography to get better shot angles or to reach points of interest, but transitioned into more extensive day hikes as he started to enjoy the activity more and realized how hiking could get him to less traveled photography locations.
[huge_it_slider id="68″]
Through the majority of his hikes, Cvijanovich has been accompanied by one of his friends, and a small group of other hikers, led by Paul King, his "hiking sensei." King has been the most influential person for Cvijanovich when it comes to hiking because he has been the one that has led and allowed him to participate on many noteworthy hikes throughout the past two years.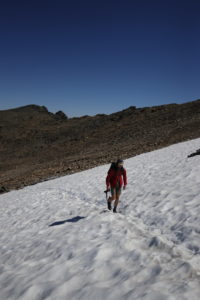 These hikes include Mt. Dana, Mono Pass, Clouds Rest, Mt. Whitney, San Gorgonio Mountain, Mt. Baldy, Cucamonga Peak and the southern rim to the northern rim of the Grand Canyon. Cvijanovich's least favorite hike has been the "Franklin Trail" in Carpinteria. And the hardest hike he has ever done was the rim to rim hike in the Grand Canyon. In general, Cvijanovich hikes because he "love[s] being unconnected from the internet and collecting [his] thoughts."
With all this regular hiking, Cvijanovich has found which "hiking essential" has come in handy the most. For him, it has been a "bladder" because "the ability to drink water while your walking instead of stopping and grabbing your water is genius."
Cvijanovich suggested to people who want to start hiking, but don't know where to start, "If you're new to hiking, I believe Arroyo Verde is a great place to get fit and whenever you have time on the weekend, perhaps checking out [Santa Barbara] or [Los Angeles] [would be a good idea]." He also suggested to people who want to be able to increase their levels of hikes to "keep on hiking [because] it's good for you, physically and mentally."
Lastly, Cvijanovich shared that whenever he is on a trail for 6 to 12 hours, "near the end of a long hike, I always get loopy and super weird."