Touring your future: how do college tours affect student decisions?
Walk on any well-known college in America and one will likely see it: groups of parents and students traversing the campus led by a college student walking backwards. Odds are, they've asked their tour group to tell them if they're about to walk into anything or anybody, as tour guides at the University of Southern California and the University of California, Los Angeles did.
For many students, college tours are a ubiquitous part of the college application process, alongside personal essays and requesting letters of recommendation. Unlike the latter two processes, however, college tours are designed to market universities to prospective students.
US News and World Report, who produces an annual ranking of colleges and universities, offers an entire section devoted to college tours.
"Before choosing the best college to attend, it is important for students to test the waters," reads their website. "Making a college visit and touring the campus can be pivotal in a student's decision to apply to school."
Senior Peyton Erickson has attended college tours at Stanford, USC and UC San Diego among others. Reflecting on the college tours she's attended, she added, "The USC tour moved USC up my list to almost the top," although she noted that she was already planning on applying to the schools she toured.
The Princeton Review, who produces AP test preparation books, offers this advice in its article  "Get the Most Out of Your College Visits:" "While it's the most obvious thing to do, the official campus tour is worth your while… It gives the school a chance to show off its best features, like the newly-built theater or their rooftop planetarium."
Tours at schools at both private schools like USC and UCLA follow a basic routine. Students and parents sit in a presentation about the college's academics, undergraduate opportunities, and admissions. Presenters at both schools were quick to inform parents and students that scholarships and financial aid are available to make the school's sticker price more palatable.
Next, after time for questions, college students will take groups of parents and students around the campus to provide insights into student and day-to-day college life.
Erickson added, "I found that the tour guide had a lot of impact on my impression of the school. At certain schools the excitement and passion for their school that the tour guide expressed excited me about the possibility of attending that school, while at others the tour guides['] unenthusiastic tour made me less inclined to put that school near the top of my list."
Linda Bergfeld, who teaches AVID periods one and three, suggested that students taking college tours ask about available resources for students like tutoring in addition to asking about academics and campus life.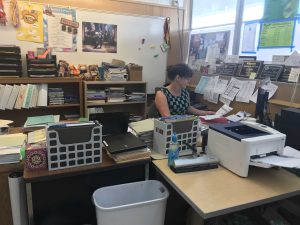 In an email, she said, "Tour guides can impact [student] perception a lot because they are the first impression the students get of the campus! Everything from their attitude, energy level, volume (how loud are they, can we hear them) to how funny are they [can impact how students see a college]."  
For students planning on scheduling tours, Bergfeld had some advice: it's "never a good idea to visit a campus on Friday or the weekends when no one is around!" She added that it's important for prospective students to see college students living and interacting on campus to get a better idea of college life.