VHS under voluntary evacuation due to mudslide threat
Ventura High School students are likely to be evacuated from school to to a threat of weather-related mudslides, per an email from Principal Carlos Cohen.
According to the email, sent to VHS teachers and faculty, classes had a "high [likelihood]" of being cancelled and students evacuated from campus, due to the threat of mudslides caused by inbound rainstorms.
The mandatory evacuation, per the email, will likely be issued by the Ventura Police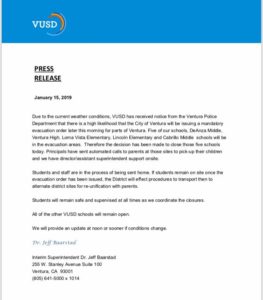 Department.
Per Cohen, all extracurricular activities taking place today at VHS are cancelled and "will be rescheduled."
UPDATE 10:29 A.M. — Interim Superintendent Jeff Baarstad has confirmed in a press release that Ventura High School will close Tuesday Jan. 14, in addition to De Anza Middle School, Loma Vista Elementary, Lincoln Elementary, and Cabrillo Middle. Parents have been called to pick up students on-site, but students who cannot be picked up will be taken to alternate sites for reunification with parents. Per the release, more information will be provided by noon.
UPDATE 10:42 A.M. — The Ventura High School evacuation has been downgraded to voluntary, per Assistant Principal Chris Murphy. Parents may choose to pick up their students from school, or call them out, but all students who are not picked up will go on with the school day.
UPDATE 11:05 A.M. — In a phone call to parents of Ventura High School students, Principal Cohen stated that if the voluntary evacuation around VHS is changed to a mandatory one, students will be moved to the Main Street Gym and subsequently evacuated.
UPDATE 11:26 A.M. — Principal Cohen has elaborated on these plans in an email sent to VHS staff. Parents, guardians, and emergency card designees are encouraged to pick up their children. Students that normally take the bus will be able to do so at their normal times. Teachers and faculty have also been instructed to be on alert regarding potential school closures for Jan. 16.
UPDATE 5:07 P.M. — All VUSD schools will be open tomorrow, as the voluntary evacuations for Ventura will be lifted between 12:00 A.M. and 5:00 P.M. on January 16th.
The Cougar Press will continue to report on this breaking story as more details become available.