Where are the nerds at?
How Buena v. Ventura Nerd Day transitioned into Rivalry Day
It's that time of year again, Cougars. The final moments of high school football for the 2019-2020 school year means it's time for the Buena v. Ventura game.
Leading up to the intense rivalry game, Ventura High always hosts a spirit week where students get to dress up and hype up the school spirit. In the past, VHS students dressed up as exaggerated, "nerdy" Buena students called "Buena nerd day." While students still dress up as Buena bulldogs, the connotation of the event has completely changed, as well as its name from "Nerd day" to "Rivalry day."
The change of title wasn't just one school's decision. VHS Principal Carlos Cohen felt what Buena's staff was feeling as well. "It was a conversation between Mrs. Powers at Buena High School. We wanted there to be a healthy, fun, spirited event between us and Buena because they're our cross rivals. We didn't want it to have a negative connotation," said Cohen. "We felt strongly that calling it Nerd Day didn't necessarily bring the positive framing of it and although rivalry still is not about harmony, it at least takes it away from being name-calling and labeling." As an attempt to bring about the fun, positive spirit of team rivalry, they decided to change the name to Buena Ventura Rivalry day.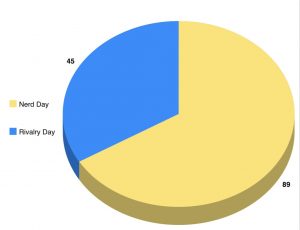 During this transition, rumors of Foothill Technology High School spread across both schools, assuming that they had something to do with the change. Cohen claimed this rumor to be false. "Foothills reality and experience is Foothills. We can always learn from our sister schools and other schools in the Ventura District, but Mrs. Powers and I have been talking about this for awhile."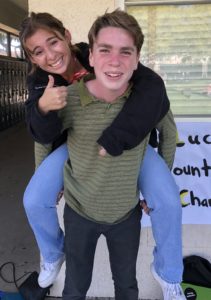 Students were opposed to VHS and BHS staff views. In a poll from the Cougar Press Instagram page, 134 students voted on their preference between Nerd day and Rivalry day. 89 students (66%) voted to keep Nerd day while 45 (33%) voted for Rivalry day. One of the 89 students was Junior Sofia Mastroianni. She stated, "I prefer Buena Nerd Day. Even though people still dress as nerds on Rivalry day, I still think it's more fun and gets more people involved." Wyatt Mojo also voted for Nerd Day: "I don't really understand what 'rivalry day' is, but I prefer nerd day cause it sounds cooler and has been around longer."
"I think traditions are great, especially the positive traditions or traditions that make people dig deep and bring out the best in them. It's unifying," stated Cohen. "We're able to tie back and connect with not just our current class, but with all the alumni that go as far back as that tradition has gone. I actually enjoy seeing all the Buena colors and Bulldog stuff. I love the traditions and practices we do here." No matter what the day is called, it still holds the tradition of rivalry spirit. The Buena-Ventura spirit has been around since Buena was founded, and will still be around for years to come.