Ventura High schools sports are making a comeback this season
 Upcoming sport events coming to VHS this Fall  
After a year of being stuck in quarantine due to the pandemic, it's safe to say that sports are making a comeback this season. Kicking off this school year with students returning to school in-person, meaning students are eligible to return back to play the sport they love. At Ventura High School, students are offered many opportunities to try new sports and aim for higher levels including freshman, junior varsity and varsity.
 This fall, students are coming back into play this season. Girls volleyball, boys water polo, girls tennis, boys football and girls golf.  As Ventura High School Students return back to school , they must follow all rules and regulations regarding COVID-19, everyone must wear their mask at all times and maintain distance between them and the other players involved. This reality is something students must adjust to, as well as coaches, teachers, peers, etc.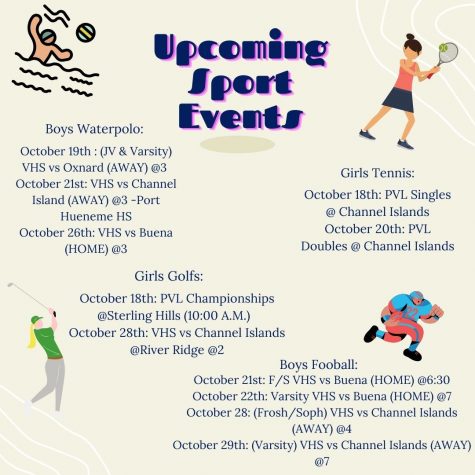 This year's boys water polo team is now getting back into the pool and started their first games of the season. Senior Jack Lowell, from the boys varsity waterpolo team commented on what he's most excited for this season, "Just mainly the league games. I've been looking forward to it all year, we had a bit of a rough start to the season, especially at the start of the league but we've been looking very promising." After asking if he had any favorite or least favorites from games and practices so far, Lowell commented "the entire Rio Mesa game." Lowell also mentions his personal goals is to, "play as best as I can, hopefully get seen by some college coaches." 
Before COVID-19 outbreaks, the Ventura High School girls volleyball team placed first in Pacific View League, following the year after that in 2019, they placed third in Pacific View League. After the girls volleyball games this past week, varsity player senior Olivia Sletten shared her intel on getting back into action this fall season. " I am so glad we get to have more than zero games, last year we barely had any but yeah it's been fun," Sletten said. Sletten also mentioned what she is looking forward to most this season, "I think we have a pretty decent team, really strong all-around and just getting to know all the girls," she added, "We did have a Buena game already and it was really fun because we had a massive student section so it was really fun to have everyone all together and cheering." 
After all the setbacks, students and staff members must adjust to the new protocols, while still pursuing their athletic goals.