Record breaking XC season
 After being unable to have a season last year, the VHS cross country team is back, and they brought a new star runner with them.
The return of cross country in the 2021 season has drawn attention to the Ventura High School team. After summer training, cross country runners have begun their season. A new runner onto the team this year, Sadie Engelhardt has already drawn attention to Ventura High due to her quick start to the season. The new addition of Engelhardt to the cross country team, combined with the team's eagerness and discipline, anticipates a strong season.
 "I think our biggest strength is the will to succeed, and the will to do things even when Coach isn't looking. I think we excel at pushing ourselves and pushing each other to be the best we can," sophomore Henry Hammel said. "We are a lot better [than last year]. We have a lot of kids performing at high levels right now and we have moved up in the rankings a ton. Right now we are seventh in all of [the] Southern section. We've just been putting our noses to the ground, getting at it."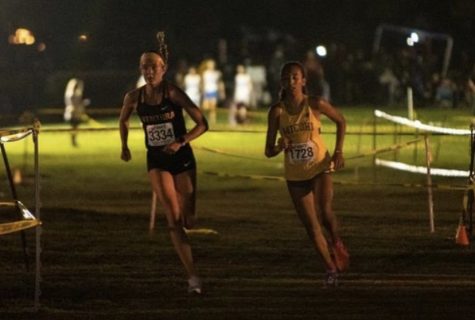 One difference between this year's team compared to previous years is the new freshman runner, Sadie Engelhardt. The first meet of the season was held on Sept. 3, at the Cool Breeze Invitational. Engelhardt broke 16 minutes during her three mile race, with a race time of 15:59, breaking a record. Engelhardt said, "Well I knew that course was going to be pretty fast, and there was definitely some good competition, and the upperclassmen, with all the competition there. I was super excited. I knew it was going to come out to be a fast time, so I'm just excited that I could do it so early in the season, but also trying to keep consistent for the future season.", 
Engelhardt opened up about her thoughts moving forward, "I have a lot of pressure put on me, but I try to keep myself within my own expectations, and just see what I can do. It was kind of destined to happen, since 8th grade I was doing pretty well. Stuff happens, and I just want to stick with the sport and see what I can do for the future too." With such a defining start to the season, Engelhardt is undoubtedly facing stress to continue improving. 
Engelhardt did not always run with a team. In fact, she didn't always do cross country either. Engelhardt states her previous activities before joining the VHS cross country team, "I ran for the Valley United Striders, it's over in Calabasas. I also played soccer, and I just quit soccer this year. I was kind of running unattached, which is just like with no team, by myself, going to races all over the country. So to have the team with me this year is pretty great." Engelhardt has been training for many years to achieve the skill she possesses. Engelhardt describes her experience with the VHS cross country team so far this season as a freshman, "I would say that [. . .] it's kind of just a big family, and we are all just there to push each other. We're all competitive, so that's good for the environment. Yeah, I would say that we just hold each other accountable for each workout."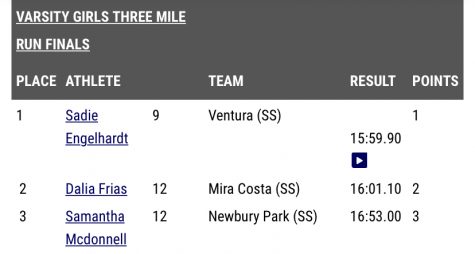 Not only has Engelhardt faced change by joining the cross country team, but her addition to the team is new for returning members. Hammel explains his thoughts on the new addition to the team, "Having Sadie on our team definitely gets us into some good races, and it definitely gives us the outlook on wanting to just be [the] best we can because we are gonna be getting a lot of attention for our school." 
Having Engelhardt on the team draws more attention to VHS, giving the cross country a big reason to give their all at races. Engelhardt's accomplishments have not only benefited herself, but have given Ventura High School publicity and opportunities to run at well known races and invitationals. 
After the inability to race in person last year, the cross country team has returned with a renewed will to succeed. Engelhardt has started this season off in an inspiring way, motivating the team to follow her lead. Just a few races in, the 2021 cross country season has already been, quite literally, record breaking.