Girls water polo went head to head with Santa Barbara High
Ventura High School's varsity girls water polo team competed against Santa Barbara high school on Thursay, Dec. 5 during their second game of the 2019-2020 season. The girls team, currently a division four team, held their heads high as they went against a division one team. Santa Barbara finished with the win, 4-7, but the girls did not go down without a fight.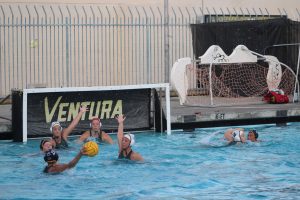 Throughout the first half of the game the score remained tied. As the third quarter of the game approached, the Dons began to shoot more shots than before and brought the score up  6-3. Cougars defense weakened throughout the second half, finishing the game at 7-4. 
Junior Tenaya Romero (number 15) commented, "It sucks that I ended up shot blocking a ball with my face but our team really came together to try and stay in the game and not give up, it was very fun to watch."
The varsity girls goalie this season, junior Lindsey McDermott had an overall great game. McDermott added, "I am very proud of myself and my team for holding out as long as we did, and putting our best foot forward against a highly ranked team."
Senior Megan Ditlof (number 8) as well as co team captain with senior Kailey Garcia (number 11) commented, "We played very well against Santa Barbara considering they are a division one team and we are division four, I am very proud of the girls for not giving up and putting their all into that game." Ditlof's hopes and goals for this season include winning league again to hold their league championship title and make it past the second round of CIF. 
Catch the varsity girls this season compete for CIF and hold their league champion title. Their next home game you can go watch is on Dec. 19 at 3:15 in the afternoon against Oxnard.