Varsity girls water polo splash their way to victory against Channel Islands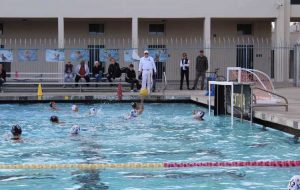 [dropcap size=small]J[/dropcap]an. 7, at 3:15 p.m. in the Ventura High School swimming pool, the girls varsity water polo team competed against Channel Islands High School in their second league game. The game started off strong with Ventura in the lead. At the start of the first quarter, senior captain Kailey Garcia scored the first goal with six minutes and 34 seconds of the quarter remaining. Ventura continued scoring goals, earning points for the Cougars.
Senior Megan Findlay scored three goals in a row all within a span of two minutes.
When Findlay was asked how the game went, she commented, "I think it went how we expected, but nonetheless we played hard and we won another league game!"
Junior Tenaya Romero ended the quarter scoring two goals for Ventura. When second-quarter began, junior Ashley Roberts came through and scored a goal with six minutes and 34 seconds left for that quarter. The game continued to go on with many blocks made by junior Lindsey McDermott.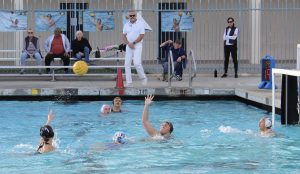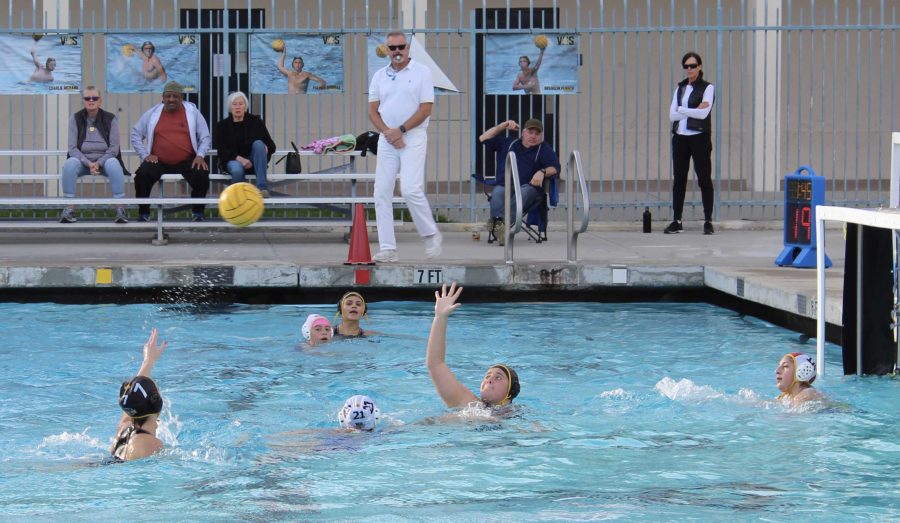 McDermott stated, "The game went super well and I love being the goalie for my team. I am also looking forward to the rest of the season and all the memories I'll be able to make."
Two minutes into the second quarter, Channel Islands scored their first point for the game, making the score 1-9. Ventura continued to score points and the second quarter was concluded by two goals from Romero and junior Taylor Nichols.
Garcia kicked off the third quarter with a goal with five minutes remaining. A minute after, freshman Emily Ball scored bringing the score to 14-1. With three minutes remaining in the quarter, senior Marthe Pecht scored two points. With six seconds remaining, Findlay scored the last point of the third quarter, putting Ventura ahead by 16 points. The fourth quarter began with a point from Channel Islands, but Ventura stayed strong with a point from Garcia a minute after. Romero scored the last point of the game with two minutes left in the quarter, Ventura ending 19-2.
Senior Izzy Tenison commented on her team's success, "My team and I knew it was going to be one of our easier games this season and I think we did a good job adjusting to that. We also had to make sure we continued to set up our offense."
With two league games under their swim caps, these girls continue towards the Pacific View League title.