Ventura sends bulldogs back to the dog house
The Cougars defeat Buena for the tenth year in a row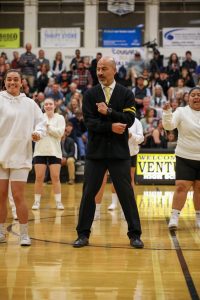 On Feb. 5, 2020, the Tuttle gym was filled with eager fans and competitive players, ready for the boys varsity basketball to play their annual game against Ventura High School's rival, Buena High School. This game would determine if VHS varsity boys basketball would have a ten year winning streak against their rivals.
The game began at seven o'clock. The gym was full of yelling fans, and encouraging there school. Ventura had a tough first quarter, the score going back and forth, but Buena was in the lead after the first quarter with a score of 13-10. Fortunately, junior Caleb Gilbert (number 33) was able to bring back the lead for Ventura by scoring six three-pointers with a score of 21-17.  Ventura ended the first half of the game in the lead with a score of 28-26. 
Gilbert said, "The highlight of the game in my opinion was when the student section went crazy, when we would score on Buena. I scored 19 points during this game and my team played awesome all together. We played hard throughout the whole game. I think we played really well this whole season, we were fine with only two losses and I'm really proud of the team."
Ventura cheer, dance team, and hip hop team performed for the crowd during halftime. VHS hip hop dancer Aunuhea Reed said, "I have been on the hip hop team since I was a freshman in highschool. This is my fourth Buena v. Ventura game I have performed at, and this performance was the best that I have seen while being on this team. With the support of our new dance instructor, and our team, I really felt the energy from all of my team and the crowd. It was the most special to me because it was my last year and I got the chance to perform a dance my and the other captains choreographed."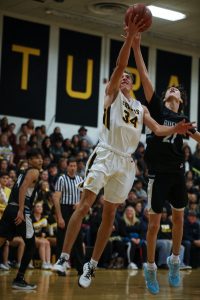 Junior Cade Ledesma (number 34) helped Ventura's big win, he said, "The highlight of my game was when Gilbert threw me a '"lob'" late in the fourth quarter, and the crowd went crazy after I made the basket. I scored 6 points during the game. The team played really hard together, and I'm super happy we beat Buena." 
As the second half began, the score was looking good for Ventura. The crowd's energy rose with two minutes and forty-four seconds left. Buena began to score, making four baskets, but it wasn't enough to pull Ventura back. Ventura ended the game with a score of 61-51.  Ventura's win earned them second place in the Pacific League, sending them to the CIF Southern Section Division 3AA playoffs.