VHS sophomores put the fire in Phoenix
 Annual Phoenix Triathlon proceeds go towards former VHS teacher's scholarship fund
Sunday, March 1 was the 13th annual Phoenix Triathlon that took place at the YMCA at 8 a.m. The event was put on by 10th grade Honors English teachers James Locher and Mary Dietz and involves teams of three who participate in a 550 yard swim, 8 mile bike, and 3 mile run. 
To participate, team's paid $100 while individuals paid $50. Each competitor is given a shirt designed specifically for the year and a medal at the end of the race. They were also greeted with a pancake breakfast. Making breakfast was just one way that the sophomore Honors English students helped by at the event. They also directed athletes, passed out water, handed out medals, and calculated times.
Sophomore Charlie Dwyer stated that his job was to "show the bicyclists which way to turn and keep track of how many laps they did."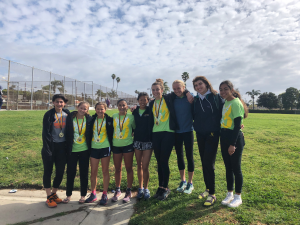 Similar to her peer, sophomore Ava Rosenthal, "helped the runners on the course to make sure they were going the right way."
Locher commented about the origin of the triathlon, "The Phoenix Charity Triathlon was started in 2008 by myself and the 10th grade Honors English students at that time. It was started as a way to put our studies of the 'hero's journey' into action by serving the community and creating positive change." 
Each year the funds raised by the event are donated to a local charity or organization that the teachers and class choose. "This year, we raised over $1200 dollars for the Mike Russell Memorial Scholarship Fund. Mr. Russell passed away from cancer last year; he was a teacher and coach at VHS for more than 35 years."
Locher commented that his favorite part of the day was, "Watching Carolyn Russell, Mr. Russell's widow, putting medals on the finishers at the end of the run course.
This year, VHS teachers Linda Bergfeld and Helen Scovell sponsored teams. Mark Schmidt swam for a team, and Sebastian DeClerck had a family team "like he does every year," stated Locher. 
Dwyer stated that, "The day was a lot of fun and the group of people were great."
Locher commented that his favorite part of the day was, "Watching Carolyn Russell, Mr. Russell's widow, putting medals on the finishers at the end of the run course."