Ventura County sees surge in support of President Trump
Surges in political rallies around the U.S. are becoming more local.
Following the election that went on for five days, Trump rallies have started increasing all throughout the country, including here in Ventura. There has been a sizable surge in Trump supporters and protests after the Election Day results. On Nov. 7, news networks began to name President-elect Joe Biden as the predicted winner. However, weeks later, President Donald Trump still refuses to concede. Even Fox News, which has been seen by some to be biased towards the current President, has called the election for Biden. Trump's refusal to concede has sparked an uproar of rallies in favor of the President.
From the beginning of the voting process, Trump has worked to discredit mail-in ballots, claiming that all of them were fraudulent. In June, Trump tweeted about how he believed the 2020 election was going to be rigged and tried to invalidate the credit of mail-in ballots. These claims have led to some of his supporters believing mail in ballots to be fraudulent as well. According to a study by The Washington Post, 50% of Democrats had planned to vote by mail in this election, whereas 25% of Republicans had planned on mail-in. 
On the night of Nov. 3, some states had not counted the mail-in ballots, giving Trump leads in key states like Pennsylvania and Georgia. The following days, when mail-in ballots were being counted, results flipped as they favored Biden. 
Audrey Taylor, a Ventura High senior, had this to say, "Trump has created a cult following in which people are emboldened by him in power. White supremacy and hate crimes have thrived with him in charge and now people fear being held accountable again," she added.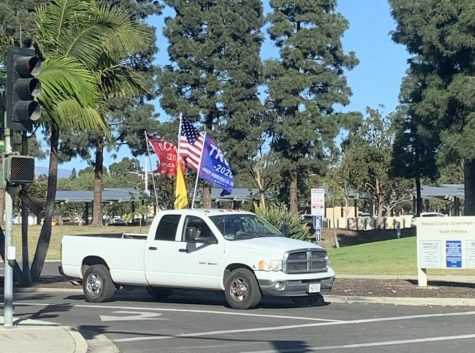 On Nov. 2, the day before the election, Trump supporters organized a car parade that took place on E. Main Street here in Ventura. It is believed that these supporters started in the Ventura Keys. 
"I think they're great, people are expressing their opinion" said VHS junior Carson Studt. "If BLM can hold rallies so can people who support Trump," he added. "I think Trump supporters get more backlash because people are brainwashed into thinking one way their whole lives and don't use personal critical thinking to make up their personal decisions and values."
There have been small rallies and protests popping up in many places in Ventura, including in front of the County Government Center on Victoria, on E. Main Street, by the fairgrounds, and in front of City Hall. And according to ABC news, rallies like this have been happening in other parts of California, including Beverly Hills and Sacramento. 
"The only way Trump supporters find meaning in their lives is channeling support through rallies to support someone they think is as good as a God," junior Kylie Cloutier says. 
In California, there are 58 total counties, and 22 of them voted Republican according to CNN. Most of the counties are in northern California, with the exception of Kern, Tulare, and Kings county. 
Since the beginning of November, Ventura has seen a rise in rallies that are in support of President Trump. There have been sightings all across Ventura of people standing on street corners waving flags and signs or people who simply wear Trump hats and masks. These instances are getting more and more common with President Elect Joe Biden's inauguration day fast approaching.