Ventura High School girls tennis team fights for CIF championship
Varsity girls tennis team season finale
The Ventura High School girls tennis team recently qualified to compete in the California Interscholastic Federation division, also known as CIF. The girls varsity tennis team went undefeated the whole season giving them the chance to compete against other schools who qualified. Senior Tess Luoma, the team captain, has been playing tennis since her freshman year. "It felt amazing to qualify for CIF. Our team worked super hard this year and it really proved that all our time and effort didn't go to waste," said Luoma.
After qualifying for CIF, the team competed in their first round of competition competing against the Ayala High School on Nov. 3, the VHS tennis team won with a score of 11-7. Junior Katie Rundle said, "It felt really good because it felt like everything I had been working towards was showing." 
Once they won the first game in the CIF lineup, the girls headed off to their second game. On Nov. 5, the team competed against Whitney High School in Long Beach, Calif. The girl's team lost their second CIF game with a final score of 14-4, meaning they couldn't move onto the third round of CIF competitions and didn't get a chance to compete for the CIF championship.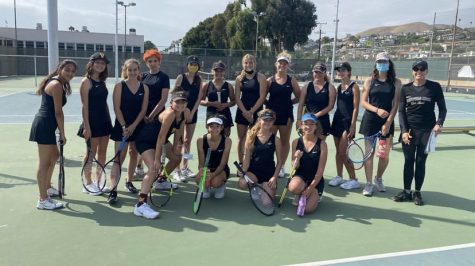 When asked about the second round of the competition, Luoma said, "The second CIF game was challenging, and we sadly lost but everyone played really consistently and strategically, which is really all that matters." 
That last game marked the end of the tennis season as a whole. Aside from losing this last game, the VHS girls tennis team bounced back since the COVID-19 pandemic halted practice and matches last school year. They even won against the VHS cross-town rivals Buena High School, where the final score was 15-3. 
When asked about this season being over, Luoma, who will soon be graduating VHS said, "I'm honestly really sad that the season is over! Even with the difficulties of COVID-19, our team got super close and I have really enjoyed playing with all of them. I will definitely miss it." 
Rundle, who will be continuing tennis next year said, "I'll probably work on my own because next year I want to get a single to spot since I'm playing doubles right now." 
The 2020-2021 tennis season was unconventional, with the effects of the COVID-19 pandemic still around today the CIF qualification meant a lot to these players. When Luoma was asked what her tennis future is in college she said, "If I don't play on a team, I'll most likely do club or intramural tennis. I also rock climb regularly, so I am hoping to participate in that too!"