Class of 2023 reminisces on their years on the field
Ventura High School seniors discuss their last high school football season
Jonathen Ocheltree '23 (#85), Charlie Willis '23 (#5), Mac Hannah '23 (#7), Aiden Marin '23 (#4), Jayden De la Cerda '23 (#77), Tobias Raymond '23 (#76) and Dylan Garcia '23 (#8) shared their thoughts on their senior season. After four years on the field, seniors played their last game for the Ventura High School Football Team against Rio Mesa High School Oct. 28 at the Larrabee Stadium. The game's final score was 34-14 for an RMHS win.  
De la Cerda said, "I thought it was a good season. I wish we would've made it to the playoffs, but you know it had its ups and downs, and I wouldn't trade it for the world."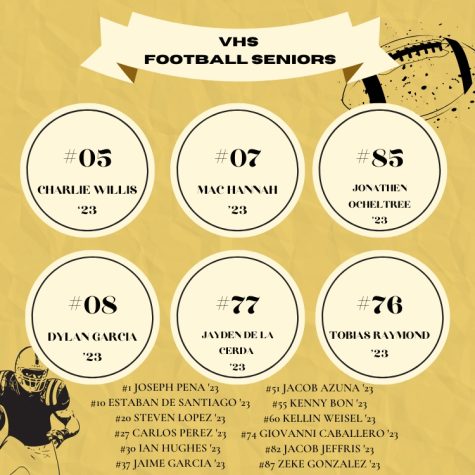 Ocheltree said, "My favorite memory [of the past four years] was probably last year's playoff run when we went three weeks into playoffs. It was really just an awesome experience."
Hannah said, "Senior night was my favorite. I got my first catch of the season to get a first down in a close game. I'm gonna miss being under the lights."
Some of this year's seniors beat Buena High School when they played on varsity during their sophomore year. This is the only time in their four years the players beat BHS. Marin and Willis both referred to this as a key moment for them. 
Marin said, "[My favorite moment was] the only time I beat Buena my sophomore year. That was really fun, especially because it was on their field."
During these seniors' four years on the field, they've been supported by many different students, coaches, teachers and family members. 
Ocheltree said, "I've had a lot of people who supported me. I'd say the most was probably my mom, she's always making me food and taking care of me." 
Garcia said, "My dad has always been there. He comes to all of my games and is probably my biggest supporter."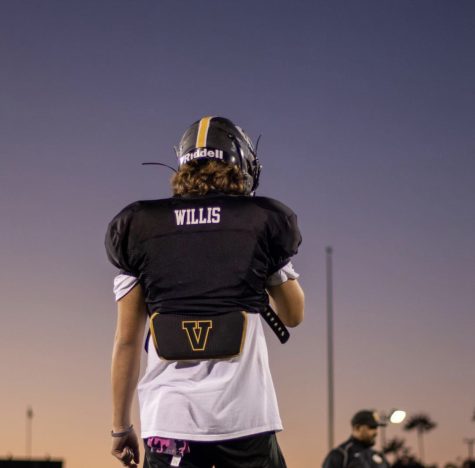 Raymond, who committed to USC for football and will attend the school in fall of 2023, said, "My family has supported me a lot in terms of motivation but coach Garcia did so much for me in terms of recruitment. He helped me through it and I was in his classroom almost everyday to talk about it last year."
De la Cerda said, "[The thing I will miss most about being on the football team will be] the brotherhood from the team. But I'll also miss not seeing my friends as much like my teammates who I don't typically hangout with."
De la Cerda said, "Some good players you should lookout for are Nick Thomas '24 and Tristan Philips '26. [Philips is] a freshman but he's pretty good. Ryder Koontz '24 and Gavin Calderon '25, all of them. They're all really great players."
"[Overall] it was honestly a really special season. It's my senior year, it's my last year of football and it was a really fun season," Ocheltree said.