Class of 2022 says farewell to football
Get to know the football seniors with a season wrap up
 After playing for four years with Ventura Football, seniors Colton Mohror #24, Sam Plasch #6, Jesús Salcedo #28, Jacobi Cardellino #9 and Joshua Calles #52 have finished their last season.
This season, Ventura ended up being third in the Pacific View League. The Ventura Football team played their last game of the 2021 season against Colony High School in Ontario, CA .  Mohror said, "It felt great, it was bittersweet having lost that game because I didn't want the season to end, especially it being my last year. But I was so proud of our team and how we played and how far we took it this year."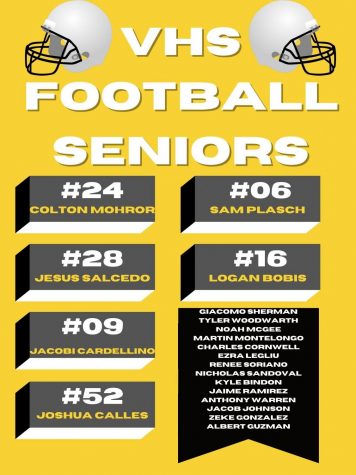 When asked about their favorite memories of Ventura Football, the seniors had a lot to share. Salcedo recalled a game from his freshman year where he made an intersection against Oxnard High. Plasch said his favorite memory is, "Turning up with my teammates after wins, that's a feeling that I won't be able to feel again."
For Mohror, the team dinners were something that he'll never forget. Salcedo said, "Best thing is we get funded the most so we get the nicest team dinners."
The season did not end without its fair share of injuries. Cardelino broke his ankle, Salcedo dislocated his shoulder during the fifth game, Plasch broke his hand in the first quarter of the second round playoff game and he ended up playing the last game with a cast. 
Calles said, "[The] three round playoff game against Colony High School […] I might have had the best game of my whole entire high school football career and regardless of our outcome I know I left everything out on the field and I'm very proud of our hard our team fought."
When asked who he'd like to pass the torch to, Mohror said, "I'd like to pass the torch to the soon-to-be seniors next season, guys like Tobias Raymond and Jacob Jeffris. I think they will really step up next year, and are already great players. And Mylan Walker is a dog too even though he's not a senior yet."
Calles said, "I would like to pass the torch to our young middle linebacker Nick Thomas because regardless of our outcome of this year that kid never stopped and always brought the energy, being on the field with them felt like we were unstoppable, hope he makes it out." He said, "I would love to thank Coach Garcia for just showing me in the short amount of time of being a football player the true meaning of me being a man, I really feel that Coach Garcia changed and forever saved my life."