Boys Varsity Basketball makes a comeback win against Buena in their last game of the season
Ventura High School boys varsity basketball beats Buena High School varsity basketball in their last game of the season
On Feb. 2, Ventura High School met their cross town rival Buena High School for their second game and last game against each other for this season. After losing 65-31 in their last game against Buena, they came ready to play. "From a coaches standpoint when we went in to get dressed it was kind of unusual because usually this group talks, but they came in quite and ready to play, which really stood out to me because our season hasn't been that," said varsity basketball coach Felix Cortez. 
The first quarter ended with Buena leading 21-10. "As the game progressed the first quarter was pretty tough since we got beat by so much last game, and we were down 21-10 the first quarter, it was like what are we doing? What do we have to do to change that? So between the first and second quarter we talked about playing better defense and securing the ball," said Cortez. 
"Actually at the end of the first we were down 21-10 which is a pretty sizable lead, but we just kept trusting each other, trusting the game plan and our Coach [Cortez]. We also had a lot of good energy from our student section, it wasn't the biggest student section but they had great energy throughout. So we kinda fed off of that and really trusted each other the whole way through and just kept working our way through it and that was the end of the game," said guard junior Jack Rose. 
The second quarter ended with Buena leading 16-10 with Ventura catching up. "We did a much better job of that [better defense and securing the ball] which led to at the end of the second quarter finishing at 16-10. So we were down 31-26 at half time," said Cortez. "Then the third quarter came and we actually played the best third quarter of the whole season. We always struggled in the third quarter in the past. We were up by the third quarter 41-40," said Cortez. 
The fourth quarter came and the team's were tied. "Then we got up in the fourth quarter and I thought 'okay we're gonna do this.' However, we did throw the ball away a couple times and ended up tied at the end of regulation," said Cortez. There was a tie and they played a half quarter for OT. "Then in overtime we outscored them 11-7 and for this team it has been hard to be consistent with our scoring but for this we did a really good job. Kayden, our senior, really stepped up and probably played his best game of the season this game."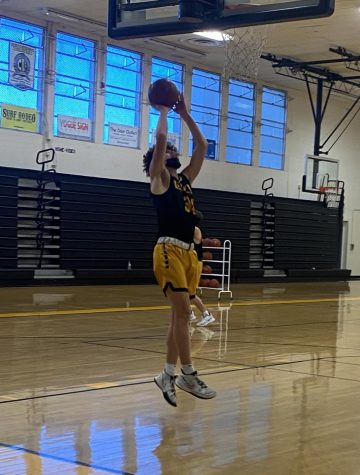 "Going into the game and starting knowing it was the last game as highschoolers, also the fact that it was in Buena's territory is pretty nerve racking. Since we have people doubting us that always makes you want to do better and so knowing it was my last game, I knew I had to give it my all. I got to give it out to my teammates for being so trusting with me during the game. I just feel like it came down to who [Ventura or Buena] wanted it more," said senior guard Kayden Gonzales.  
"As a team we all played really tough and kept our heads in throughout the whole game, we kinda just focused on what we needed to do, obviously we lost the first time but we prepared for a really long time on what we needed to do. We stuck to what we were doing and did it well," said Rose. 
"How I felt during the game was nervous since we did get blown out last game, but my mindset was to just give it my everything. I just knew it was going to be a close game, it was tiring but we gave it our all and we came out with the W [win]," said sophomore Travis Valenzuela. 
"Basically I went into the game thinking we were gonna lose by 30, since our first game we played Buena home and we lost by 30. But we went into that thinking we are just gonna cheer them on since this is their last game of the season. So we went into that just trying to encourage them. So when we were down by like ten-ish we were like this is not going too well, and then we got a couple shots and were then down by two and once we realized we started chanting. We Were twice as loud as Buena and they had three times as many people on their side, it was insane. Overtime was absolutely crazy and we were freaking out. Between all of us our chants were just amazing and the feeling going into that was just like a fever dream. We were so excited that we just won. I am just super glad for the boys and it was such a great game for them to end on," said senior varsity girls player Alexis Howery.