Opinion: WTF: Where's the funding?
 As teachers close their doors in protest of their three percent raise, students should do everything they can to support them
Ventura High School students are beginning to realize that the teachers' doors across campus have started to close during lunch and non-school hours. As frustration spreads across campus, we need to remember that our Ventura Unified School District is the one that needs to be held accountable for this. 
The VUSD's motto is, "for the future of every student," but when the time comes to actually help students and teachers, they avert their eyes. Personally, I love going to my teachers for help, and I utilize the tutoring and resources they provide. However, as a school, we have taken our teachers for granted and for the long days and hours they put in outside the class. They deserve to be compensated. 
As housing prices climb statewide, our district was allotted 13 percent in ongoing funding and a significant portion of this was for a Cost-Of-Living Adjustment (COLA), so teachers' salaries can keep up with inflation. For context, many surrounding districts are in negotiations and expected to receive an eight to 10 percent raise. So frankly, for our district to only provide three percent of this extra money for teachers and keep the rest for themselves is insulting and unfair to the teachers of the students they promise to protect. 
Chemistry teacher Karen Reynosa said, "It was horribly difficult [to close my door]. I am actually so sad. If I really talk about it I get near tears, cause this is my jam. I love being with the kids and for me to have to say no to a kid is devastating. I can honestly tell you that I am never depressed, but this is making me feel that." 
The district refusing to compromise negatively affects not only teachers, but the future of Ventura, VHS and the community. 
Reynosa said, "We cannot attract first-round draft pick teachers to this district. I have four students who wanted to come here just in the last two years who were awesome teachers and all of them chose to go to Oxnard because they are making $30,000 more a year. We are not competitive, not even closely competitive … I really want to attract the best teachers because then people want to move to our town and we get the best of all worlds, so I'm not really thinking about the money I'm making. I'm really thinking about the money that will attract the most people to our city, so our city can grow and you will want to stay here with your kids instead of moving. We have these young teachers who can't live off this salary. They can't buy a house here. So why would they give up money? I'm really thinking long-term and I feel like there's gotta be something we can do as a community. No one is a bad guy in this, there are no bad guys, but we need to decide what we want for our future in this town. And I've never felt like this before. I've never felt this undervalued. It's not really about that, it's really about what is the future of this town."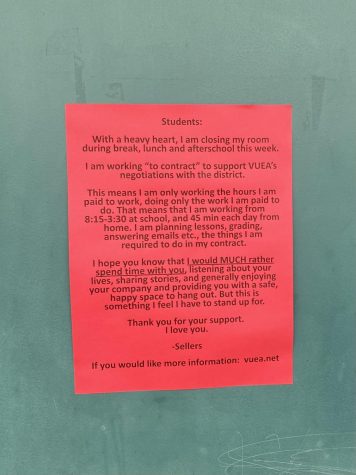 Ava Renshaw '24 said, "I get it. The teachers are trying to fight for what they want and what they deserve. But it's definitely been hard on the students. A lot of people rely on that time during lunch to get help or catch up on stuff they might have missed when they were absent. I think it's a really tricky situation."
The district is forcing teachers to make a choice. How many of our teachers will be able to stay if housing prices begin to climb? Think back to the teachers you have had since elementary school. Teachers and schools are formative experiences for children. They create future leaders. Our teachers should not feel undervalued, especially by their district. Now that they have refused to use it for its actual purpose, what does the district plan to do with the 10 percent of the extra money they have? 
As sad as I am that I can't go to my teachers' classes for help, we as students must recognize that this is a difficult decision for them too, and we must sacrifice this to help them in any way we can. 
Reynosa said, "The reason that I do what I do is so that I can help kids, and it feels like all the stuff that I do for free, and I do hours and hours of stuff for free, my district was saying we don't value you. I would have rather that the district didn't give me anything rather than that one percent. The disconnect between the teachers who are in the trenches with students and the way the budget is drawn. I don't understand it. I am sure there are reasons for things, but the only power I have is with my students." 
Return the favor for the teachers who have helped many of us for over 12 years. Wear red, encourage your teachers and let them know you support and understand their decision. 
Reynosa said, "Really, what [the district is] saying is that kids aren't worth it, and that's not true, kids are everything."