Book review: "It Ends With Us"
After the trend of reading "It Ends With Us" died down, is it still worth reading?
We have likely all heard of author Colleen Hoover, more specifically, her most popular novel, "It Ends With Us." 
Despite "It Ends With Us" being published on Aug. 2, 2016, the book became well known due to its popularity on "BookTok," the book lover's side of the social media app TikTok, in 2021. The book received extremely high ratings when it first came out, boosting Hoover's reputation in the book world. She became a well-liked and well-known author due to this. However, recently the book has been receiving more and more negative reviews. If you have not read "It Ends With Us," and do not wish to have it spoiled for you, stop reading now.
"It Ends With Us" follows protagonist Lily Bloom as she navigates young adulthood as a new business owner. The book switches between past and present from the perspective of Bloom, exploring her childhood growing up in an abusive household and an unlikely teen romance. In the present day, Bloom meets surgeon Ryle Kincaid and they begin a seemingly perfect relationship that turns out to be darker than Bloom could ever imagine. 
"It Ends With Us" explores heavy topics of sexual assault and abuse in relationships. While the book explores important topics and brings awareness to sexual violence, it is also considered a sappy romance novel to many. Most of Hoover's books follow the textbook romance storyline with little range in the stories she writes. While "It Ends With Us" does explore important topics that need to be talked about more, it is still seen as a romance book similar to so many others already written. 
Sunday Bouvet '23 said, "Honestly, yes. ['It Ends With Us' is] worth the hype. It talks about heavy and important topics." Hoover has opened up and shared that she wrote the novel based on her mother and father's relationship, describing it as the hardest book she has ever written. 
The immediate rush of the popularity of reading this book caused most of the reviews to be positive during the height of the trend. However, now that the initial trend has passed, the book is facing more negativity. It has been called out for being poorly written as well as for handling the topic of domestic abuse poorly. This remark could also be simply based on reader preference, however, many "BookTokers" have come forth with this opinion on the novel.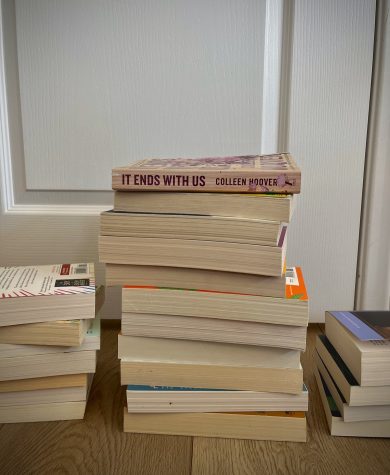 Hoover has written 20 novels total, with "It Ends With Us" being her most popular and a number one  New York Times Best Seller. 
"I've read two books by her [Hoover] so far and I really like the style of writing she does," said Bouvet. 
Olivia Arriaga '24 said, "[Hoover] an amazing author and she knows how to get her audience attached." 
Hoover has gained 1.1 million followers on TikTok as of Oct. 19, with TikTok being her main source of marketing for books and other projects. In July 2019, it was announced that a movie was to be made of "It Ends With Us," but the film's release date is still unknown. Hoover has also released a sequel to the novel, titled "It Starts With Us," which was published Oct. 18. 
Despite the mix of negative reviews about the novel, an overwhelming amount of readers enjoyed it. "It Ends With Us" has received a 4.4 out of five star rating on Goodreads, and a 4.8 out of five-star rating on the Target website. 
"I give it a five out of five because it's so good and I finished it in three days," said Arriaga. 
Bouvet gave the book a four-and-a-half out of five-star rating. 
While "It Ends With Us" may not give the most accurate representation of domestic abuse, it is a great starting point for books that do give better representation and provide a greater and more respectable amount of awareness. Although imperfect, "It Ends With Us" opened the door for more authors to allow other authors to address heavy topics within their books along with providing a start for conversations about sexual violence to be discussed and normalized.