After a hiatus, the Chicano Student Movement of Aztlán is back at VHS
 A returning club comes back to Ventura High School 
A new club has been added to VHS this year, the Chicano Student Movement of Aztlán (MEChA). They meet every Tuesday in Salvador Villalobos' class, room 124.
MEChA was originally created in 1969 at a conference in Santa Barbara, where the manifesto titled "El Plan de Santa Barbara " (The Santa Barbara plan) called to action students from a dozen high schools to practice their political force on campus.
VHS Spanish teacher, Villalobos, has replaced VHS Spanish teacher Raul Ruvalcaba as the club's main supervisor since the club took a short break. Along with Villalobos, Araceli Garcia a student teacher is also an advisor for MEChA. 
The current cabinet of MEChA includes president Alejandra Sanchez '24, vice president Jasmin Rodriguez '23, secretary Alex Saenz '24 and treasurer Andrea Ruvalcaba '23. 
They meet every Tuesday in Villalobos' class, room 124.
Villalobos has taken a new approach to MEChA, straying away from its original politically focused agenda. He, along with the club's cabinet, plans to focus on giving club members opportunities to tour college campuses of their choice as well as immerse its members in Latin culture.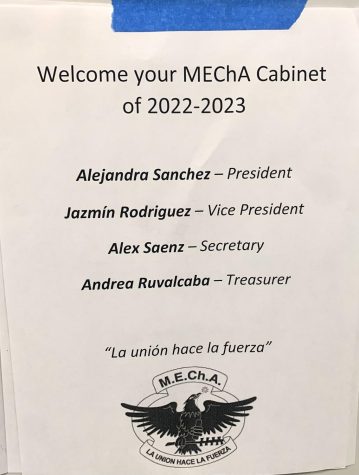 The club plans to stray away from the traditional intentions of the original clubs' statement. Instead of a focus on political force within a school campus, the cabinet of MEChA plans to put an emphasis on college tours and community support.
Villalobos said, "MEChA began on Nov. 22, 2022. It was once here at VHS, it did stop, but we decided to bring it back to hopefully help kids [pursue] higher education."
Villalobos said, "MEChA is for anybody who wishes to achieve a higher education. So it is for raza [Latino or Hispanic] and non-raza [not Hispanic or Latino] alike people. You don't have to be… Latino [or Hispanic] to join, it can be for anybody who wants to achieve the same goal."
Saenz '24, secretary of MEChA, said, "I got this position by running for office. It was a super cool process having to talk in front of everyone, [it] almost felt like I was speaking to be president of the U.S."
"My hope for MEChA is to help people get [into] college and to spread the message of Chicanos y Chicanas. I hope everyone feels that they can join, everyone is welcome," Saenz said.
MEChA is currently planning to do Valentine's Day grams, where they will raise money by selling Valentines cards to VHS students in hopes of being able to use the money for college tours.