Opinion: Rihanna scores big at the 2023 Super Bowl
RiRi and her special guest stole the spotlight from whoever was playing
On Feb. 12, Rihanna performed her well-awaited halftime show at the 57th Super Bowl. While people were betting on her opening song, outfit color and the number of songs she would perform, we were ready to watch our girl go off.
Dylan Garcia '23 said, "I want to acknowledge her red dress. She looked very beautiful with her nice pregnant belly. I love RiRi."
She opened her performance with "B*tch Better Have My Money," followed by, "Where Have You Been," "Only Girl (In the World)," "We Found Love," "Rude Boy," "Work," "Wild Thoughts," "Pour It Up," "All of the Lights," "Run this Town," "Umbrella" and lastly, "Diamonds."
Deniyah Alvarado '24 said, "I didn't like the songs that much. They were good songs, but not for a Super Bowl."
This was her first performance since 2018 when she sang "Wild Thoughts" at the 60th Annual Grammy Awards, so there was heavy discourse around the special songs she would select. Her choice to open the show with "B*tch Better Have My Money" was a powerful one. Many fans were hoping she would open with a different song, such as "What's My Name" featuring Drake. Opening with that famous line, "Ooh na na, what's my name?" would have been iconic, considering she was re-entering the spotlight with this performance. But her actual opening song choice was much more striking, letting everyone know what she was there for. 
By touching up her makeup in the middle of her performance with her Fenty Beauty Invisimatte Instant Setting + Blotting Powder, she drew attention to her makeup brand, and without even saying a word, it made everyone want to go out and get it. It's clear that Rihanna is a marketing queen because she knows how to make her money the smart way. Even we wanted to go buy some.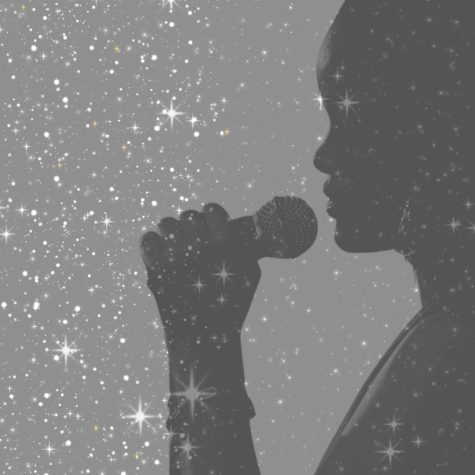 There have been so many aspects of the performance that have gone viral, ranging from her pregnancy to the backup dancers to the ASL interpreter.
Before the Super Bowl, RiRi teased the public with a hint at her second pregnancy with the announcement of a special guest in an interview with CBS Mornings co-host Nate Burleson. Her special guest disappointed many but was honestly clever. She let everyone know that she and her baby were the stars of the show. She definitely left everyone shocked when she came out, and her baby bump was showing. This subtle method of announcing her pregnancy was right on brand for her lately because she's been keeping it lowkey as she is starting her family with A$AP Rocky. 
Eric Franco '25 said, "It was alright. I dont know why people are like hating you know she's having a baby and stuff and overall it was alright it wasn't too bad. The only thing where I think she messed up [was that] she could have played better songs. I don't really listen to her but I know she has some better songs that are on the radio." 
Parris Goebel choreographed all of the dance moves for the show. The dancers that were in the Super Bowl are known as The Royal Family dance crew. They have danced for a variety of other artists, such as Jennifer Lopez, Jason Derulo and Justin Bieber. We thought they were perfect for the job because they brought enough energy for themselves and Rihanna so that she could preserve her energy for her baby. 
People on the internet have been loving the American Sign Language interpreter's performance for the show, Justina Miles. She is the first deaf woman to interpret at the Super Bowl. Miles talked about receiving the setlist in an interview with Gayle King for CBS Mornings, "'I got it and I'm like, I know all the songs,' she continued. 'I was confident. I looked over the lyrics, made sure I got all the meanings right … I memorized the lyrics and the beat, so that way I can sign the lyrics and move to the beat so [viewers] can see the beat rather than hear the beat.'" Miles did a perfect job at matching Rihanna's energy and will surely be gaining even more exposure going ahead from this.