Girls tennis faces close loss to Dos Pueblos after tie score
On tuesday September 4 the Ventura High School girls tennis team had their second match of the season against Dos Pueblos High School.
The Ventura girls had high hopes going into the match, acknowledging that the Dos Pueblos girls were a strong opponent, according to senior Maddie Halstead.
In favor of Ventura, the singles teams won all their sets, giving Ventura more points, while on the other end of the court, VHS's doubles lost all their sets resulting in a tie between the two team's score. Dos Pueblos won the overall match due to them winning all the doubles sets.
Although Ventura lost the match, the team had encouraging thoughts for future matches according to Halstead.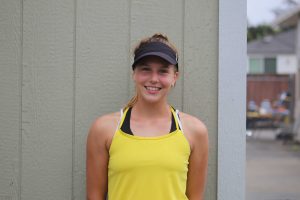 Number one singles player, junior Isabella Francis, said a goal she has is "to make CIF" and continue to enjoy the season with her team. The number one doubles team, Halstead and El Camino senior Allison Jones stated that they hope to "win [more]" and "have fun."