Colleges coming to the college and career center
Not sure what's going on at Ventura High School's College and Career Center? For seniors, it's college application season, which means colleges all over the country want to make sure students know that their college is out there.
At VHS, the College and Career Center has been and will be throughout the school year, holding sessions during school for different colleges across the country whose representatives come so students can learn about higher education possibilities.
College and Career Counselor Joshua Francis said, "What's really cool about having the college and career presenters here is that anytime that there is a college presenter, those are the same people that read your essays." These sessions, along with finding out if the college may be good "fit," gives students an opportunity to make an impression with one of the college's admissions officers.
Students are able to sign up to ensure a seat in one of the college sessions by going into the College and Career Center, finding the orange binder right outside Francis's office, and writing down your name, nine-digit student identification number, and high school grade on the sheet for the desired college visit session.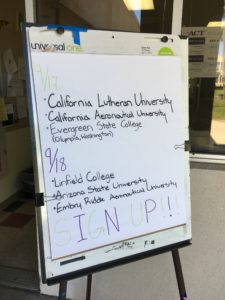 Students can sign up for any of the college visit sessions at any time so long as it is not filled up. Sign ups are on a first come, first serve basis, but if the session is not filled up on the day of, talk to Francis and your teacher in that period to see if attending the session is an option.  
Students receive an excused absence for attending any college visit session but Francis recommends talking to the teacher of the period they will be missing, and letting them know they are going to listen to a college representative speak at the College and Career Center. However, attending these sessions does not excuse students from any work. After signing up for the desired visit, Francis will send out a call slip the period before the session. Students should be at the College and Career Center at the start of the period to sign off that they showed up, which will then allow Francis to excuse everyone from that period. 
As of September 14, here are some of the known college visits that are coming up:
California Lutheran University – September 17, Period 3
Linfield College – September 18, Period 2
Merced University –  September 19, Period 6
Texas Tech University – September 19, Period 7
Seton Hall University – September 20, Period 2
University of California, Santa barbara – September 26, Periods 6 and 7
Grand Canyon University – September 27, Period 3
University of San Francisco – September 28, Period 2
Syracuse University – October 1, Period 6
Pacific Lutheran University – October 12, Period 6
Western Washington University – October 15, Period 3
University of Connecticut – October 31, Period 5
University of Oregon – November 1, Period 2
Washington State University – November 1, period 3
Portland State University – November 1, Period 7
University of Hawaii at Manoa – November 2, Period 2
According to Francis, new colleges are frequently being added, so for the most up-to-date college visit sessions, check out the orange binder in the College and Career Center.
As for Naviance, an online college and career readiness tool, students can login to access their accounts by entering in their nine-digit student identification number as the username and the their password for their student Google account as the password. The College and Career Center does have access to all student passwords and they have the ability to change them. According to Francis, Naviance's most popular tool is one that allows students to find what colleges are a good "fit" for them by giving students options of college preferences to choose from. It always allows student to enter in their GPA and SAT/ACT scores to see what schools often accept from applicants.