Varsity boys soccer brings fresh faces to the field
Ventura High School boys' soccer season opened with two back-to-back games on Nov. 19 and Nov. 20, bringing in a tie and a win for the varsity team against the teams of Westlake and Port Hueneme, respectively. The boys new to this year's varsity team are not only facing a new environment, but also the addition of a new coach, Claudio Lonardo.
Most of the boys new to the varsity team are extensively experienced in soccer and practically all have played since they were little, starting at an age that most were not even able to recall. Senior Giovani Cresti, a left back player not only new to the team but also new to VHS, commented that in Italy, where he is from, he had already played soccer for 10 or 11 years.
He added that playing here is "different because we are at school and it's, maybe it's also the coach, but it's more chill and relaxed," in comparison to his experience playing in Italy, where he commented it's "more like a job."
On the first few games of the season, senior Joseph Stutes, who plays the position of center back, commented, "I think we deserved to win the games that we have won, but I was a little bit surprised that we played as well as we did because we only had probably two days of practice [separate from frosh/soph and JV] before going into an actual game." Most of the other players also replied that they were pleasantly surprised to have won against Port Hueneme and tied against Westlake, who is held to be a skilled team.
On the transition from JV to varsity, junior Angel Diosdado, who holds the position of striker, said, "On varsity I have to try a lot harder to get a starting spot, and on JV it was just a lot easier." Senior Emilio Pinto commented on his experience as being "a little bit harder, a little more pressure," but overall, he is definitely having more fun.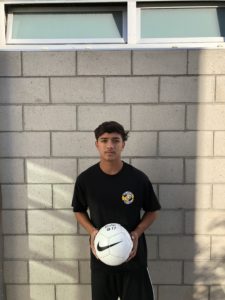 Pinto's comment reflects a common trend between the experiences of the new players–an increase in enjoyment, and a motivation to try harder and do better now that the pressure has been increased. Stutes added that the team bond was a large part of this, commenting, "I have pretty strong friendships within the team and I think that other kids do too." Stutes also attributed the change to the new coach, who he said, "brings in a lot of passion to the soccer program," contributing to its fun atmosphere and the players' motivation.
Cresti also commented that the fact that "all the kids are pretty open" and the coach make the atmosphere more fun, as well. Diosdado overall attributed the enjoyment of playing to "the people on [the team]."
The latest game that the team had was an alumni game, which they won. According to senior Edward Cervantes, Ventura's players "haven't won in like 18 years" against alumni, so the win made the players feel better about their season. As Diosdado commented, "It feels good to win."