Girls Water Polo faces off against Moorpark
Ventura High School Varsity  girls water polo faced off against Moorpark High School on Tuesday, Dec. 12, 2018, for a preseason match. The game took place in the VHS pool at 3:15 p.m. The Cougars are coming off a 12-14 overall record, and 2-6 in the Channel League. Whereas the Moorpark Musketeers are coming off a overall record of 13-12-1 and a record of 4-2 in the Coastal Canyon League.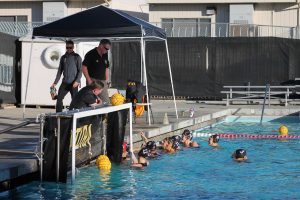 Junior Megan Ditlof led the team in scoring with 4 points over the course of the match. Junior Megan Findlay also contributing 3 points for the Cougars in their 14-6 win over the Musketeers. It was a team effort by the Cougars, with eight players scoring on Tuesday night, including seniors Sierra Cameron and Paige White, junior Kailey Garcia, and sophomore Brooke Stevens.
When asked about her thoughts going into the match, Findlay stated, "I had a strong feeling we were going to do good, but also thought it would be a close game. We worked together as a team and got another win." With the winter sports season just starting, the Cougars have a record of 2-1, with a win over Westlake High School 8-6 and a close loss to Notre Dame High School 14-12. When asked what she thought the team could have done better in the match, Findlay stated, "I feel like if we were more patient with the ball we would have scored at least a couple more times, but other than that we played great together and hopefully this win gives us some more momentum and confidence going into the rest of the season."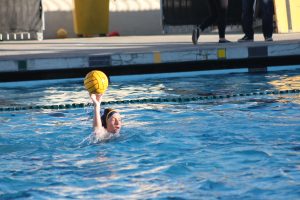 The Ventura Varsity water polo team has an away conference game at Channel Islands in Oxnard on Tuesday, Dec. 18 at 3:15 p.m. Although the game was close up until the third quarter, the Cougars stepped it up at the end of the third and started to pull away. With a final score of 14-6, the Cougars scored six unanswered points in the third and fourth quarter to give them the win.