This summer, Junior Paulina Nicole spent her time designing, sewing and selling her hand-made bikinis. Attracted to sewing since she was a little girl, Nicole attributes her passion to her grandma, who was a seamstress. "I would watch her work and I just became fascinated with the idea of creating something," Nicole explains. After her grandma's sewing machine was passed down to her, Nicole started exploring with her talent. She began sewing bikinis in seventh grade, but Nicole just recently decided to spread her talents with the public.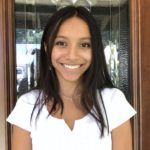 In only a month after taking her brand, LunaBluBikinis, to Instagram, Nicole received 235 followers and over twenty orders. The bikinis attracted the attention of many girls, including senior Jessica Johnson, who purchased her personalized suit over the summer. "Paulina is the nicest ever," said Johnson, "She made sure the suit was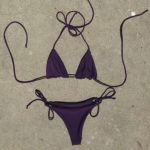 exactly how I wanted it to be so it fit perfectly!" Bikinis from LunaBlu are a great price when compared to other popular brands including Frankies, Acacia, and L*Space. Nicole's bikinis are $35, while the bikini from other brands can range from $80-$100 for just a top.
Nicole admits it has been very enjoyable to create and sell her bikinis, but it also gets stressful "staying up until the sun comes up" putting together her masterpieces. Nicole has dedicated her time to making quality bikinis made to perfectly fit a girls wishes. From creating each pattern, picking out the pieces of fabric to cutting and sewing the polished design, it is evident that Nicole is committed to her brand, and to creating the perfect suit for every girl.
In the future, Nicole hopes to pursue a career as a designer in the apparel industry. She has confidence in Lunablu, hoping that one day it will turn into something more than just a hobby. Nicole's dream is to have her own clothing or bikini line that reaches the attention of people all over! So, if you haven't already, go check out @lunablubikinis and grab yourself a beautiful suit!