Goals, blocks and yellow cards, oh my!
Boys water polo takes on Santa Barbara and shares future plans for the season
[dropcap size=small]B[/dropcap]efore facing off against Santa Barbara on a sunny afternoon, assistant water polo coach Mark Schmidt offered insight on what this particular game means for the boys varsity water polo team. Schmidt stated, "This game [will be] a learning experience. We've played Santa Barbara before, and are likely to play them again, so we are trying to approach this as a chance to see where we're at and how to get better."  So far, the varsity team has seven wins and five losses this season.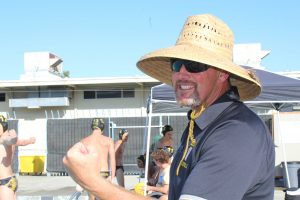 The first quarter got off to a shaky start with Santa Barbara scoring five goals, and Ventura scoring one.  However, things smoothed out the second quarter, with help from goalie Noah Johnson's blocks. The score began to even out at the end of the first half, with a standing of 5-7. Tensions heightened opening into the second half as plenty of foul plays went around. With player number eight finishing off the third quarter with a goal, the score progressed to 7-12. Two players received yellow cards. One player from Santa Barbara was also removed from the game.
Despite enthralling goals from Ventura, Ventura lost 10-18. Backup goalie,  junior Jack Zilles (number one A), noted that in order to win future games, the team needs, "to be more focused on the game and not what's happening outside of it. We all have to step up and play better than we have been."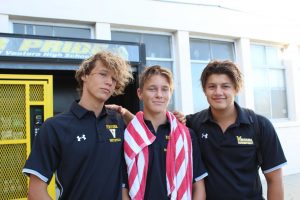 Brandon Plasch (number four) voices that this year's team has a lot more potential to make it to division three. Junior Joe Lowry (number five) agrees, adding that "We need to sink more shots [in order] to ultimately win."
Moving forward, Schmidt says that, "We'll be doing more work with the players in order to understand the fundamentals of the game. Our goal is to compete in the Division Three CIF playoffs especially since this is the first year we've been at that level."  The varsity boys look forward to their next home game against Buena on September 24.